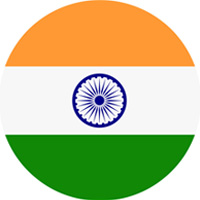 Urdu Translation in India
Urdu Translation Services
Our certified Urdu Translation services are customized to meet your unique needs within the strict deadlines and at an affordable rate in the industry. We don't offer just Urdu to English translation services but our translation services integrated to meet your interpretation and localized solutions. Let's give wings to your professional and personal success using our vast Urdu Language Translation Services.
Certified and Experienced Urdu Translators
Urdu is composed of Arabic and Persian scripts and derives some components of grammar from Sanskrit as well.
Urdu Translation of Documents
Transcription to and from Urdu
Interpretation to and from Urdu
Urdu Content and Copywriting
Urdu Voiceovers and Subtitling
Urdu Editing and Proofreading
Urdu Localization of Software and Documentation
Why Are We the Best Urdu Translation Services?
CHL localization hires extremely well versed-Urdu translators that are native speakers of Urdu and have in-depth knowledge of how Urdu is spoken and written in Urdu speaking countries. Our native translators have a vast vocabulary of Punjabi, Sindhi, and Pashto influences. Our native translators are aware of the qualities like the degree of formality and politeness that are a hallmark of this language. Therefore, they take great care in delivering quality content overcoming the formatting challenges that result from Urdu translation as Urdu has 38 letters and is written in the right to left direction.
Our translators have domain expertise in various industries, including Information Technology, Telecommunication, Medical and Health care, Manufacturing, Financial Services, Legal, Education, e-learning, e-commerce, etc.
Apart from providing Urdu to English Translation, CHL Localization also provides translation services in the Urdu language in more than 100+ languages.
Our Urdu translators are experts in domain-centric translations, including but not limited to legal, medical, technical, marketing, and financial translations. We are proficient in localizing websites, apps, videos, and games and more through effective language translation.
If you are searching for Urdu translators who have a good hold over both the written and spoken language, CHL Localization is the right choice. Call now, at +91-9818333952 or mail us on info@chllocalization.com
Need for Urdu Translation Services
Around 105 million people speak the Urdu Language around the world. Also, Urdu is the national language of Pakistan and one of the official languages of India. It has also been recognized as the minority language in the United Arab Emirates.
The majority of Urdu speakers, around 66 million, live in India and the rest in other countries. Urdu is one of 22 constitutionally recognized official languages in India. It has been granted official status in the five states of Bihar, Telangana, Jharkhand, Uttar Pradesh, and West Bengal, as well as the national capital territory of Delhi.
As a successful business, if you want to invest in the agriculture value chain, infrastructure, IT sector, or small and medium enterprise sectors, oil and gas, textile, and leather sectors, you should target the Urdu speaking population and hence, translate and localize all your business documents in the Urdu language. To reach the Urdu speaking population in India and the rest of the world, you must ensure all your marketing and business messaging is in Urdu.
We promise you the most precise, exceptional quality certified Urdu translation services, localization services, and interpreting solutions in the industry. We are available to deliver your requests at any time of the day. You strategize and make focus on placing your footsteps around the world. We will ensure that the best Urdu translation service gets you there.
Want to Tell Us More About Your Needs?
We are available 24/7 for all of your translation services requests. Call now at +91-9818333952 or mail us on info@chllocalization.com to get your free quote in less than 10 minutes!
CHL Localization provides translation services in Urdu language in the following combinations:
Urdu to Hindi translation and localization
Hindi to Urdu translation and localization
Urdu to English translation and localization
English to Urdu translation and localization
Enquiry Now
if you need us you can always call us or fill in the form underneath.
Related Services
Locations
Other Languages
LETS GO
Let's Make Something Great Together.