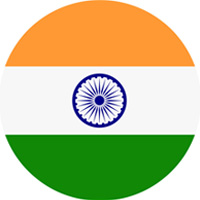 Sindhi Translation in India
Sindhi Translation Services
We provide legal, marketing, technical, website, medical, financial, personal, and certified Sindhi translation services, along with much more. Our professional and experienced translation services stretch across a host of diverse requirements, so we are exceptionally well-equipped to serve you. So, say goodbye to stressful translation and relax on hitting your deadlines using our vast Language Translation Services.
Our Language Translation Services in Sindhi
CHL Localization offers a broad range of translation services that help you get closer to your target audience. Get in touch with CHL Localization and tell us about your Sindhi language service requirements, including the following:
Sindhi Translation of Documents
Transcription to and from Sindhi
Interpretation to and from Sindhi
Sindhi Marketing Collateral Translation
Sindhi Desktop Publishing projects
Sindhi Content and Copywriting
Sindhi Voiceover and Subtitling
Sindhi Editing and Proofreading
Sindhi Customer Service Solutions
Sindhi Localization of Software and Documentation
The Best Sindhi Translation Services
Our purpose at CHL localization is to empower the people around the world to communicate, openly protect their unique cultures and enabling the free flow of ideas, entertainment, information and commerce.
Over more than 30 years, CHL localization has provided highly precise, faster and cost-effective translations. We have the proficient, and native Sindhi translators have experience of various subjects matter. Our native and certified translators work around the clock to deliver your projects on time. We offer you a comprehensive set of solutions to meet your every requirement.
Our Sindhi translators have domain expertise in multiple industries, including Medical and Health care, Information Technology, Telecommunication, Financial Services, Manufacturing, Legal, Education, e-learning, e-commerce, etc.
Besides providing Sindhi to English and English to Sindhi translation and localization services, we provide translation in the Sindhi language in more than 200 language combinations.
We provide world-class Sindhi translators that are not only experts and experienced in the language, but also specialize in the terminology that's involved in your business. We specialize in business and corporate translation services if you are planning to reach out to your Sindhi speaking global audiences.
Contact our Team
To find out more about how we can provide you with high quality and cost-effective Sindhi translations, please at +91-9818333952 or mail us on info@chllocalization.com
Need for Sindhi Translation Services
In the historical Sindh region- a northern part of India Subcontinent, Sindhi people spoke this Indo-Aryan language. Pakistan has proclaimed Sindhi as one of their official language. And in India, the central government has officially recognized it as one of the 22 constitutionally recognized language. Though Sindhi is not an official language of any of the states in India, almost 3 million people in India speak Sindhi.
Sindhi consists of a verbal form of Sanskrit language and is spoken by millions of people in Sind, India, and southern Pakistan. Sindhi has demonstrated close correlation with Urdu, and it's sister language.
If you want to invest in the infrastructure, textile, IT sector, or small and medium enterprise sectors, agriculture value chain, oil and gas, and leather sectors and venture as a successful business, then you should target Sindhi speaking population; and localize all your business documents in the Sindhi language. It is imperative that to make widespread reach in marketing and messaging; you reach the Sindhi speaking population in India and the rest of the world.
With our more than 30 years of experience, we have been in the field long enough to determine the quality of the facility. CHL assures you the quality of the conversion documents and assists you in getting the best type of the facility. Our staff is available round the clock to receive your inquires online. We are proud of our team who is attentive and patient to interpret the requirements of the potential client.
We make Translation Easier for You
Join more than thousands of customers around the world who have benefited from our high-quality, timely and cost-effective human translations. Call now at +91-9818333952 or mail us on info@chllocalization.com to get your free quote in less than 10 minutes!
CHL Localization provides translation services in Sindhi language in the following combinations:
Sindhi to English Translation
English to Sindhi Translation
Enquiry Now
if you need us you can always call us or fill in the form underneath.
Related Services
Locations
Other Languages
LETS GO
Let's Make Something Great Together.