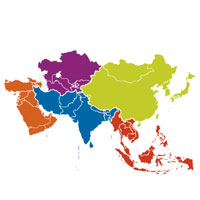 Pashto Translation in India
Pashto Translation Services
CHL Localization is India'sleading Pushto translation agency, bridging the gaps of languages. Through our effective Pushto translation services, we can help you gain a wider audience and deliver your message to your potential customers.
At CHL, the translation is not about just converting the words from one language to another; rather it is about understanding the essence and converting the message without diluting the essence. Our team don't just translate the language; we translate your thought and intent correctly.
Our Core Pashto Translation Services
At CHL localization, we understand that each translation is unique and different. Thus, we provide personal and professional analysis to offer you the best service at affordable price. We offer our clients Pushto translation services which includes translation and localization of documents, software and applications websites, into over more than 100 languages. Our translation services include:
Pashto Translation of Documents
Transcription to and from Pashto
Interpretation to and from Pashto
Pashto Marketing Collateral Translation
Pashto Desktop Publishing projects
Pashto Content and Copywriting
Pashto Voiceovers and Subtitling
Pashto Editing and Proofreading
Pashto Customer Service Solutions
Pashto Localization of Software and Documentation
The Best Language Service Provider
CHL Localization has the best team of native translators bridging the language gap consistently. Call us at +91-9818333952 or mail us at info@chllocalization.com.
The Best Pashto Translation Services
With a global vision and a client- centric approach, CHL Localization offers a high-quality solution for all translation and localization needs. We provide excellent Pashto translation services at great prices by blending technologies with expert linguists so that we may have long-term relationship with our clients.
Each of our native Pashto translators have more than 10 years of experience in yielding accurate translations in Pashto language. In addition, our certified Pashto translators excel in translating for various industries like technical, financial, legal, medical, academic and various others in the global business market. Besides, we are the most sought-after translation agency to offer professional Pashto interpretation services and Pashto localization services for both public and private sectors.
Why Pashto Translation Services Holds Importance for You
Pashto is called as Pukhto/Pushto, which is the language from the Eastern Iranian group of the family. Pashto language has two main dialects-western dialect and Eastern dialect. The difference in the dialect is in the use of sounds.
The Pashto language is mainly spoken in Afghanistan and Pakistan. In Afghanistan, Pashto has been declared as the official language. Pashto is mainly spoken in the south, east, and southwest, and also in some northern and western parts of the country.
In Pakistan, it is the provincial language in Khyber Pakhtunkhwa, Pakistanand northern districts of Balochistan province. About 15 percent of the population in Pakistan speaks Pashto language. Pashto is mainly spoken in the major cities of Pakistan such as Karachi and Sindh.
Approximately 35 million people in the world speak Pashto language. Pashto language is also spoken in Iran, the United Arab Emirates, Tajikistan, and the United Kingdom, Canada, the Netherlands, Sweden, Germany, Qatar, Australia, Japan, Russia, New Zealand, etc.
In addition, sizable Pashtun diaspora is also found in Western Asia, especially in the Saudi Arabia, and United Arab Emirates. The other communities where Pashto speakers can be founds are India, north-eastern Iran and Tajikistan.
For any business, you need to have a better communication at all levels and thus document translation is very important. At CHL localization, we aim to provide you a literal meaning of documents through our expert native translators. We have a wide network of native Pashto linguists that can provide you an error free document with just a single click.
Before introducing your business into the international market, we help you in understanding the local culture, language, etiquettes and tradition. Our native Pashto translators are aware of all the jargons of the language so you get an accurate and relevant document. Our translators are subject matter experts that help you gain a foothold in the potential market of Pushto speaking population.
Reach Out to Us
If you have any questions about our translating process or our pricing, call us at +91-9818333952 or mail us at info@chllocalization.com.
Enquiry Now
if you need us you can always call us or fill in the form underneath.
Related Services
Locations
Other Languages
LETS GO
Let's Make Something Great Together.