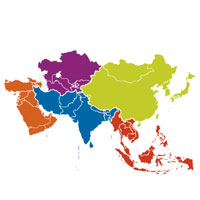 Sorani Translation in India
Sorani Translation Services
CHL Localization is committed to fulfilling every single of our client's Sorani language needs by offering Sorani Translation Services. We offer you a myriad of language services that include translation, localization, transcription, and subtitling. We take pride in delivering accurate and precise content in a quick around time. Our native Sorani translators provide high-quality language support to help your business grow across countries.
Sorani Translation Core Services
CHL Localization provides the best quality Sorani translated documents developed by the most qualified, skilled, experienced and native Sorani Translators. At CHL, we comprehend that every project is different, and hence, we take ample time to understand your needs and to provide you with the highest standard of translation services, which includes:
Sorani Translation of Documents
Transcription to and from Sorani
Interpretation to and from Sorani
Sorani Marketing Collaterals Translation
Sorani Desktop Publishing projects
Sorani Content and Copywriting
Sorani Voiceovers and Subtitling
Sorani Editing and Proofreading
Sorani Customer Service Solutions
Sorani Localization of Software and Documentation
Our Sorani Translation Services Help You Grow
Sorani language is spoken in Iraq, Iraqi Kurdistan as well as Kermanshah Province, Kurdistan Province and West Azerbaijan Province of western Iran. It is one of the languages of the Kurdish language. Iraq has granted Sorani as one of the two official languages along with Arabic.
Although it is hard to determine the exact number of Sorani native speakers, it has been assumed that about 9 to 10 million people in Iraq and Iran speak Sorani.
At CHL localization, we understand that for any global business to succeed, you have to reach out to the customers. Otherwise, you are diminishing the chances of your prosperity. It is these customers that make purchasing decisions and thus translating into profits and business growth.
If you are growing your business to the Iran and Iraq markets, you need to create content that customers can relate to. Since most of the native speakers in Iran and Iraq speak Sorani language; you should translate the content into Sorani, as they are conversant in that language.
Global businesses extending their operations to overseas markets can use our translation agency to engage their clients through translation. We translate website content, agreement documents, product descriptions, marketing materials, and more, in Sorani language. When your customer understands communication from your business, they will feel more comfortable to purchase products.
Let's Work Together
No matter what your Sorani Translations needs are, we are here for you. Call now, at +91-9818333952 or mail us on info@chllocalization.com
Sorani Language Services for Your Industry
CHL localization globalizes your business efforts to reach Iran and Iraq markets. Select an industry below to revolutionize your brand's growth across the globe
Bank Finance Industry
Technology
Healthcare
Legal
E-Commerce
Travel
E-Learning
Manufacturing
Automotive
Retail
Gaming
Public Sector
We are the Best Sorani Translation Services
CHL localization is the leading Sorani language service provider for more than three decades. Our specialist translation team consists of native Sorani Translators, interpreters, and linguists who are expert in various subjects matter. We assign translators to different projects according to their business sector skill sets. Our native Sorani Translators have a global presence which means that they work 24/7 to offer you real benefits when you have tight turnaround requirements.
As a leading translation agency, we have top-level translators, editors, digital providers, and content writers worldwide ready to help you inform, educate, or sell across the globe. We provide your business with professional translations to help you speak to your clients no matter where they are.
We are the ultimate Sorani translation services for international business. Don't rely on our words, but look at our actions and our client's testimonial, which speaks highly of our commitment to you.
Are You Ready For Global Growth?
Get your content translated by professional native Sorani translators that will ensure you the best possible chance of converting your audience into your next customer.
Call now, at +91-9818333952 or mail us on info@chllocalization.com
Enquiry Now
if you need us you can always call us or fill in the form underneath.
Related Services
Locations
Other Languages
LETS GO
Let's Make Something Great Together.