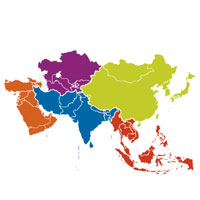 Nepali Translation in India
Nepali Translation Services
CHL localization has been rendering Nepali Translation services to various individuals, small-startups, and big corporations for more than 30years. We are a language service solutions provider to corporate where we deliver-translations, localization and interpretation services and more under one roof. With excellence, objectivity and integrity, we serve your passion. Get the best Nepali language native translators at the competitive prices.
Our Core Nepali Translation Services
Get high-quality Nepali translation services from our team of native, certified Nepali translators. We provide a wide range of Nepali translation services, including:
Nepali Desktop Publishing projects
Nepali Content and Copywriting
Nepali Voiceovers and Subtitling
Nepali Editing and Proofreading
Nepali Customer Service Solutions
Nepali Localization of Software and Documentation
Nepali Translation of Documents
Transcription to and From Nepali
Interpretation to and From Nepali
Nepali Marketing Collaterals Translation
India's Leading Nepali Translation Services
CHL Localization is the best Nepali translation agency in India. We help the world's most giant and small corporations alike in succeeding in Nepal by providing our clients with tech-enabled, human translation. Our native Nepali translators can assist you with any sector-specific translation.
We are the expert Nepali translation agency for software, digital marketing, apps, business documents, and government services in any file format.
We are known for our highly-valued attributes that include:
Trained and experienced native Nepali translators guarantee delivery of quality & precise work.
We provide cost-effective pricing which involves proofreading without any hidden charges.
We offer customized and comprehensive medical services according to your requirement.
We ensure safety and maintain the confidentiality of your documents.
We provide transparent cost which does not include any hidden cost.
CHL Localization ensures that we maintain the uttermost safety and confidentiality of your documents. We make sure that all our Nepali translators have signed NDC if required. Our team is extremely professional and very discreet. This distinction enables us a definite edge over our competitors.
We provide Nepali Translation services at Best Prices.
We are your language growth partner which offers accurate and worthwhile Nepali language translation services. Call now, at +91-9818333952 or mail us on info@chllocalization.com
How Can Nepali Translation Services Help You?
The Nepali language is an Indo-Aryan language of the sub-branch of Eastern Pahari. Also, Nepali has been granted as the official status and recognized as one of the 22 scheduled languages of India in Indian Constitution. Also, in Nepal, Sikkim has granted it as one of the official language. It is also used in some parts of the Darjeeling, and Kalimpong district of the West Bengal. The language is also known as Khas Kura, Gorkhali or Parbatiya in various other contexts.
The Nepali language has been influenced by the Tibeto-Burman languages. But the language differentiates from the Central Pahari language, both in grammar and vocabulary.
Mainly, all the citizens of Nepal speak Nepali language and about a quarter of the population in Bhutan speak the language. According to a recent survey, about 44.6 per cent of the population in Nepal speaks the Nepali language as the first language, whereas 32.8 per cent of the people speak Nepali as the second language. The Nepali language is prominently used in governmental and mostly in every day dialects of the local population.
Our native Nepali translators have expertise in a wide range of domain expertise in various industries, including e-commerce, Medical and Health care, e-learning, Telecommunication, Information Technology, Financial Services, Legal, Manufacturing, Education, etc.
Tourism is the main attraction of Nepal. Our native Nepali translators can effectively translate in solving one of the biggest tourist dilemmas by helping and assisting you by offering services in the Nepali language. We also translate tourism materials that can not only help tourists feel welcome but also increase your business popularity as tourist's friendly, thereby augmenting your significant revenues.
We provide Nepali Translation services at Best Prices
Get professional Nepali translation services that transcend global boundaries. Call now, at +91-9818333952 or mail us on info@chllocalization.com
CHL Localization provides translation services in Nepalese language in the following combinations:
Nepali to English Translation
English to Nepali Translation
Enquiry Now
if you need us you can always call us or fill in the form underneath.
Related Services
Locations
Other Languages
LETS GO
Let's Make Something Great Together.