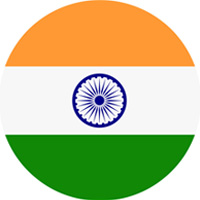 Marathi Translation in India
Marathi Translation Services
For companies looking to expand their business and foothold in Maharashtra, our certified Marathi Translation services can help you. Our native Marathi translators merely don't speak the Marathi language fluently but are also aware and informative of the Marathi Culture and historical translation to deliver the highest standard and accurate translation. Our translation agency has a proven track record of translating and localizing, which will ensure positive business gains.
Our Language Translation Services in Marathi
Our Translation agency offers you a wide variety of translation services that help you expand your business in the new markets. Contact us and tell us about your Marathi language service requirements, including the following:
Marathi Translation of Documents
Transcription to and from Marathi
Interpretation to and from Marathi
Marathi Marketing Collaterals Translation
Marathi Desktop Publishing projects
Marathi Content and Copywriting
Marathi Voiceovers and Subtitling
Marathi Editing and Proofreading
Marathi Customer Service Solutions
Marathi Localization of Software and Documentation
Our native Marathi translators have proven track records and in-depth knowledge of a wide range of business sectors that will efficiently process your Marathi translation projects. With a network of experienced, sector-specific Marathi translators ready to accept your brief, we can usually deliver your projects in the fastest turnaround time.
High-Quality Translation At a Speed!
Get certified Marathi translators who have a good hold over both the written and spoken language to stand out. Call now, at +91-9818333952 or mail us on info@chllocalization.com
Delivering Excellence in Marathi Translation Services
With diverse languages and dialects across this vast and beautiful land, if you are looking for a translation agency to get high-quality translation documents, you have come to the right place. CHL localization is India's leading Marathi Translation agency that guarantees the accuracy, speed, and round-the-clock assistance.
We can translate all types of documents from Marathi to English or English to Marathi and that too in various combinations of more than 200 pairs of combinations. Our native Marathi Translators can translate from technical instructions and magazine articles to medical journals, signs, and legal documents.
If you need to localize your products to your Marathi speaking customers in the Maharashtra State or in international markets further afield, our experienced Marathi Translators can help promote your business for successful outcomes.
Need for Marathi Translation Services
The Marathi language is spoken in Maharashtra, a state in Central India. Marathi is also one of the official languages in India. The Marathi language is also spoken in Andhra Pradesh, Madhya Pradesh, Karnataka, and Gujarat. The Devnagri script is used in the Marathi language. Across the globe, the Marathi language is spoken in the USA, UAE, Mauritius, South Africa, UK, Australia, Germany, and New Zealand.
At present, about sixty-two million people speak the Marathi language, including the speakers outside the native state of Maharashtra.
If you are planning to expand and grow your business, it is mandatory to promote such products and services, keeping the target audience in mind. For effective business communication, you should keep in mind-the local people, their culture, and lifestyle. The language has emerged as a superior, dominant force and a great business force to influence people.

There is a huge demand among small and big business for Marathi Translation Services owing to the popularization of the Marathi language in the global market. Many firms and business entities are hiring Marathi Translation agencies as a means to communicate directly with the localities.
Within the business domain, Maharashtra Economy is the largest in India. Mumbai, the capital of Maharashtra, is referred to as the financial capital of India. Mumbai is also called the film city because of the vast numbers of movies, daily soaps, television, and news being churned out in large numbers.
For a successful business, if you want to invest in the agriculture value chain, IT sector, or small and medium enterprise sectors, tourism, oil and gas, infrastructure, financial services, textile, medical and legal and sectors, you should target the Marathi speaking population and hence, localize all your business documents in the Marathi language.
Call Us For Your Next Project
CHL Localization is the one-stop translation agency for all your translation requirements. Call now, at +91-9818333952 or mail us on info@chllocalization.com
CHL Localization provides translation services in Marathi language in the following combinations:
English-Marathi translation and localization
Marathi-English Malayalam translation and localization
Hindi-Marathi translation and localization
Marathi-Hindi translation and localization
Enquiry Now
if you need us you can always call us or fill in the form underneath.
Related Services
Locations
Other Languages
LETS GO
Let's Make Something Great Together.