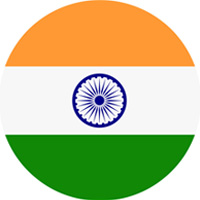 Malayalam Translation in India
Malayalam Translation Services
Our Certified Malayalam Translation Services help global businesses successfully operate and communicate effectively among the Malayalam speaking population. Our pool of native, in-country Malayalam speaking translators are vetted, fully qualified, and experienced translators with expert industry experience. You will also benefit from our dedicated account management and production teams, which ensure that we deliver the best, professional, and accurate Malayalam Translation Service.
Our Language Translation Services in Malayalam
CHL localization offers you a complete set of solutions to meet clients' requirements. Our native Malayalam Translators work around the world 24/7 to deliver the project's highest standards on time. Tell us about needs in Marathi Language Translation Services, including the following:
Malayalam Translation of Documents
Transcription to and from Malayalam
Interpretation to and from Malayalam
Malayalam Marketing Document Translation
Malayalam Desktop Publishing projects
Malayalam Content and Copywriting
Malayalam Voiceovers and Subtitling
Malayalam Editing and Proofreading
Malayalam Customer Service Solutions
Malayalam Localization of Software and Documentation
Our native Malayalam translators have in-depth knowledge of a wide range of business sectors that ensure accuracy and quality translation projects. CHL Localization provides you an excellent professional commitment and perfection. That's our promise to you.
Quality at the Best Price
Get certified Malayalam translators for the best results and successful outcomes. Call now, at +91-9818333952 or mail us on info@chllocalization.com
Market Leader in Malayalam Translation Services
CHL Localization provides accuracy and excellence for our professional Malayalam translation services, and we stand by all of the translations delivered by our translators. Our dedicated account managers and committed translators will work with you until you are completely satisfied with the quality and accuracy of the finished product.
Our Translation agency provides accurate translation with quick turnaround times in more than 200 Malayalam to other languages combinations. From marketing materials to medical and legal documents, CHL localization will convert any type of media within budget. We work with wide ranges of clientele to provide Malayalam translation services for materials such as:
Legal Documents and Transcripts
Contracts
Annual Reports
Medical Records
Websites
Product Labels
Educational and Instructional Materials
Technical Manuals
Food Labels
We understand how crucial language is in the process of communication and hence employs the best people who are the greatest in the business. Our translators carry out Malayalam language translation task quite meticulously and in any format that you want.
Need For Malayalam Translation Services
The Malayalam language is predominantly spoken in the state of Kerala, the southern State of India. The language is also widely spoken in the neighboring states of Tamil Nadu, Lakshadweep Islands, and Karnataka. Malayalam language has been granted official status in India and is amongst the 22 constitutionally recognized languages. Ancient Dravidian language is the source of Malayalam Language, and it uses the Malayalam script. Moreover, Malayalam is also a difficult language for someone to speak or even understand because of its complicated words.
Approximately more than thirty million people worldwide speak the Malayalam language. Globally, the language is used UAE and other Gulf countries.
The Kerala economy constitutes the majority of the services sector. Kerala is India's one of the largest tourist destinations. It is also the state which receives the highest overall remittances to India. To gain a strong foothold in the infrastructure, small and medium enterprise sectors, agriculture value chain, handicrafts, and horticulture, you should target the Malayalam speaking population and localize all your business documents in the Malayalam language.
Over 30 years of Malayalam Language translation proves the fact the CHL localization is one of the best places for Malayalam translations. CHL has played a significant role to suffice the translation requirement by acting as a quality service provider of Malayalam Translations.
Let's Work Together
At CHL Localization, we have exceptionally talented Malayalam translators who ensure comprehensive security and confidentiality for every Translation project. Call now, at +91-9818333952 or mail us on info@chllocalization.com
CHL Localization provides translation services in Malayalam language in the following combinations:
Malayalam to English translation services
English to Malayalam translation services
Enquiry Now
if you need us you can always call us or fill in the form underneath.
Related Services
Locations
Other Languages
LETS GO
Let's Make Something Great Together.