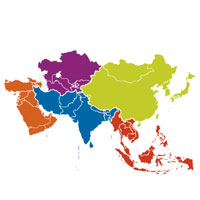 Malagasy Translation in India
Malagasy Translation Services
CHL localization is the leading Malagasy translation services in India. Our team of native Malagasy translators worldwide has vast experience in the translation industry. Our Malagasy translators have varied specialties in many subject matters. With over 30 years of experience in this translation industry, our team can help you gain profits in the business by making your message accessible to millions of potential customers in their language.
Our Core Malagasy Translation Services
At CHL Localization, we provide high-quality translations from Malagasy to more than 100 languages. We have a team of native Malagasy translators that have vast experience in the field of translation. We use human translations to maintain the originality of the document and delivering the document error-free. We translate any documents from Malagasy to your target language in a quick time. Our Translation service includes:
Malagasy Translation of Documents
Transcription to and from Malagasy
Interpretation to and from Malagasy
Malagasy Marketing Collateral Translation
Malagasy Desktop Publishing projects
Malagasy Content and Copywriting
Malagasy Voiceovers and Subtitling
Malagasy Editing and Proofreading
Malagasy Customer Service Solutions
Malagasy Localization of Software and Documentation
The Best Language Service Provider
CHL Localization has the best team of native translators bridging the language gap consistently. Call us at +91-9818333952 or mail us at info@chllocalization.com.
The Best Malagasy Translation Services
CHL localization delivers the right translation and interpretation, along with other localization services in a quick time. Our connection with our clients makes us unique, where we make a significant positive difference in the overall localization needs.
From our commitment to the highest quality translation in the Malagasy language, we make sure that everything we do honour's our commitment to you in making that connection. Besides additional localization solutions in the major languages of the world, we engage with our clients and communities to conduct business responsibly.
To say CHL Localization recruits and empanels high-quality native Malagasy translators, along with experienced in-house team members, is genuine. That's how we create success stories, but it hardly tells our whole localization story.
With over three decades of experience, CHL localization has tried to make translation and interpretation a little better than the earlier to bridge the language barriers in all our projects.
Why Malagasy Translation Services Holds Importance for You
Malagasy is a member of the Austronesian family of languages and the national language of Madagascar. The people from Madagascar speak it as their first language. Malagasy word refers to the indigenous people of Madagascar, which consists of some 36 tribes and are of mixed Indonesian and African descent.
The Malagasy language shares its basic vocabulary with Maanyan, which is a language from the region of the Barito River in southern Borneo. The Malagasy language contains words borrowed from Bantu languages and Arabic. The Malagasy language has written literature, which goes back to the 15th century. The Malagasy language is written in Sorabe script.
The language is also closely associated with the Malayo-Polynesian languages of Malaysia, the Philippines, and Indonesia.
The Malagasy language is also spoken in Réunion, Comoros, and Mauritius. The Madagascar diaspora existing in Europe, North America, Belgium, and Washington, DC in the United States also speak the language.
CHL Localization offers experienced native Malagasy translators for all English to Malagasy translation and vice versa. If you want to make inroads into the Madagascar economy, you would need translators for translated documents in specific industries. Whether you need
Whether you need military documents, historical documents, websites, business content, technical materials, or anything else, we have a team of native translators who can give you a quick turnaround and error-free technical Malagasy translation.

CHL Localization is happy to translate the smallest bit of text or the largest of projects with expedited and customized services tailored to your needs.

Reach Out to Us
To get started, obtain a free quote by calling us at +91-9818333952 or mail us at info@chllocalization.com
Enquiry Now
if you need us you can always call us or fill in the form underneath.
Related Services
Locations
Other Languages
LETS GO
Let's Make Something Great Together.