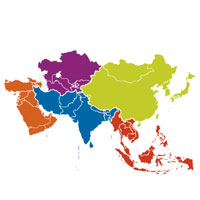 Lao Translation in India
Lao Translation Services
CHL Localization aims to bridge the communication gap by helping individuals, small and big corporations with their exceptional Lao Translation Services. We help everyone reach their target audience by hiring the best Lao translators that deliver extraordinary quality work that leaves our client satisfied.
Our Core Lao Translation Services
CHL localization has a great team of native certified Laos translators provide a wide range of Lao translation services, including:
Lao Translation of Documents
Transcription to and from Lao
Interpretation to and from Lao
Lao Marketing Collaterals Translation
Lao Desktop Publishing projects
Lao Content and Copywriting
Lao Voiceovers and Subtitling
Lao Editing and Proofreading
Lao Customer Service Solutions
Lao Localization of Software and Documentation
India's Leading Lao Translation Services
In the business world, you need to set your brand apart from others. You need to communicate your brand message in different cultures and languages. CHL Localization services can help you bridge the culture and language bridge in Laos. We have native Lao translators that extend your reach with the best translation services and assist you in guiding through Laos customs.
Our specialized team of experienced professional Lao translators have knowledge of the various domain and industry verticals. At CHL localization, we provide Lao translation services both too big corporate houses as well as small, medium enterprises and individuals. We work in a disciplined manner to ensure that we maintain quality for all sorts of translation projects.
If you are looking for Lao translation services, you can rely on us as our work ethics is based on client's accuracy and satisfaction.
We provide Lao Translation services at Best Prices. Call now, at +91-9818333952 or mail us on info@chllocalization.com
How Can Lao Translation Services Help You?
Lao is also sometimes known as Laotian is the Kra–Dai language of the native Lao people. The language is spoken in Laos. It is the official language of Laos. The language is also spoken in northeast Thailand, where it is referred to as Isan.
Among all citizen of Laos, the Lao language serves as a lingua franca. However, the citizens of Laos, speak approximately 90 other languages, which sometimes are totally unrelated to Lao.
As with other Tai languages, Lao is a tonal language. It consists of a complex system of relational markers. The Lao language is kind of mutually intelligible with Thai and Isan, which are the sister's language of Southwestern Thai languages, to such a degree that speakers from different language are able to communicate effectively with each other and speak with one another in their respective languages.
The Lao script originated from the Khmer alphabet of the Khmer empire in the 14th Century. It was also rooted in the Pallava script of South India, which is one of the Brahmi Scripts. In addition, the Lao script bears a resemblance to the Thai language, which contains lesser letters than the Thai language.
In the Lao language, vowels are written as diacritic marks and can be placed above and below, in front of, or behind consonants. For numerals, the script contains distinct symbols, and it also uses Arabic numerals. Hence, the Laos language is quite a difficult language to translate.
In the business world to succeed, translation holds important for everyone. We make sure that companies do not get holdback due to language barriers. The Laos economy is rapidly growing, and it is a lower-middle-income developing economy. The country has an averaging 8% a year in GDP growth.
As a growing business, if you want to aim to progress in the Laos economy, who need to target the predominant native people, speaking Laos language. CHL localization hires native Laos translators who understand various challenges and simplify the documents for your need. We guarantee that our clients get the maximum value for their money to ensure the best outcomes. Our native translators aim to deliver the maximum cost-effectively in the shortest turn-around time.
Get the Best Lao Language Translation Service
CHL localization comprehends flawlessness, knowledge, professionalism, experience and cognition to deliver the highest quality of translation services. Call now, at +91-9818333952 or mail us on info@chllocalization.com
Enquiry Now
if you need us you can always call us or fill in the form underneath.
Related Services
Locations
Other Languages
LETS GO
Let's Make Something Great Together.