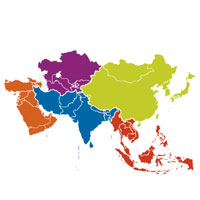 Kurdish Translation in India
Kurdish Translation services
CHL Localization is a pioneer in Kurdish translation services. With over three decades of experience in the industry, we have established a network of highly trained in-house linguists, global business partners, and satisfied clients across the world. At CHL Localization, we offer you a unique customized solution in more than 200 languages combinations from any specialist field that you may require.
Our Core Kurdish Translation services
CHL localization team is committed to being able to offer certified Kurdish translation documents at an affordable price in order to make its expert language services available around the globe. We ensure that our clients get a trustable Kurdish translation quote in just a few clicks. CHL Localization has integrated some of the best native Kurdish translators and finest translation tools available into its workflow. Our translation services include:
• Kurdish Translation of Documents
• Transcription to and from Kurdish
• Interpretation to and from Kurdish
• Kurdish Marketing Collateral Translation
• Kurdish Desktop Publishing projects
• Kurdish Content and Copywriting
• Kurdish Voiceovers and Subtitling
• Kurdish Editing and Proofreading
• Kurdish Customer Service Solutions
• Kurdish Localization of Software and Documentation
The Best Language Service Provider
CHL Localization has the best team of native translators bridging the language gap consistently. Call us at +91-9818333952 or mail us at info@chllocalization.com.
The Best Kurdish Translation Services
Our Kurdish translation services always have a native certified Kurdish language translator for your project. Based in the heart of South East Asia, our skilled language service providers offer excellent customer services. We ensure that you receive high-quality linguistic service by monitoring the project and all the process at every step of the way.

With each project that we have, we ensure accurate Kurdish translation service. We provide translation service based on our customer needs, budget, and deadline. Our carefully selected team of native and professional Kurdish translators specialize in every subject matter so that you do not have to ever worry about the quality and confidentiality of the document.
Why Kurdish Translation Services Holds Importance for You?
The Kurdish language is an Indo-European language constituting a dialect continuum belonging to the Iranian language family. Dialect continuum means that Kurdish is actually a spectrum of dialects rather than a single language. The dialect continuum works in such a manner that the dialects farther away from each other geographically can be very different, whereas those who are closer are very similar.
The language is spoken by the Kurds in the geo-cultural region of Kurdistan and the Kurdish diaspora. The Kurdish language consists of three language groups such as Northern Kurdish (Kurmanji), Central Kurdish (Sorani), and Southern Kurdish (Palewani or Xwarîn).
Approximately 15 to 20 million Kurds in Turkey, northern Iraq, Syria, and northwest and northeast Iran speak Northern Kurdish (Kurmanji), which is the largest dialect group.
Approximately 6 to 7 million Kurds in much of Iraqi Kurdistan and the Iranian Kurdistan Province speak Sorani language, which is a written standard of Central Kurdish developed in the 1920s. It was later adopted as the fundamental orthography of Kurdish as an official language of Iraq.
About 3 million Kurds in Ilam provinces and Kermanshah of Iran and in the Khanaqin district of eastern Iraq speak Southern Kurdish (Pehlewani).

Also, several million ethnic Kurds speak non-Kurdish Northwestern Iranian languages-the Zara-Gorani languages. Usually, the majority of Kurds speak the Kurmanji language. The Kurdish language is written in Kurmanji (which is the Hawar alphabet) and Sorani (written in Sorani alphabet). Using four different writing systems, the Kurdish language is written in different formats. In Iran and Iraq, it is written using the Arabic Script. In contemporary times, it is sometimes written with a Latin alphabet in Iraq. Also, In Turkey, Armenia, and Syria, it is written using a Latin script.
As the diverse nature of the Kurdish language requires great attention when it comes to translation, CHL localization provides you the best translation. If you are looking for Kurdish Sorani translation services or any other Palewani, Kormanji translation, you are at the right place. We provide you an affordable Kurdish translation service.
At CHL localization, it's our priority to ensure your translations are accurate and culturally relevant, which is why our certified Kurdish translators work specifically with their native region on Kurdish.
Reach Out to Us
If you have any questions about our translating process or our pricing, call us at +91-9818333952 or mail us at info@chllocalization.com.
Enquiry Now
if you need us you can always call us or fill in the form underneath.
Related Services
Locations
Other Languages
LETS GO
Let's Make Something Great Together.