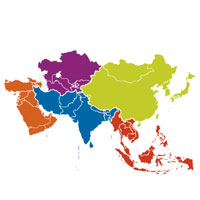 Korean Translation in India
Korean Translation Services
CHL localization provides high quality professional Korean translation services using an experienced team of native, in-country Korean translators. Our translation agency provides expert Korean translation services that cater to a wide range of fields, including technical, medical, legal, IP documents, patents, software, financial, and engineering. We have the expertise to translate not only in English to Korean and vice-versa, but we also translate between Korean and over more than 100 languages.

Our Core Korean Translation Services
If you need accurate medical, legal, and certified Korean translated documents, then CHL Localization is the best agency for you. Our company handles translations projects, including:
Korean Translation of Documents
Transcription to and from Korean
Interpretation to and from Korean
Korean Marketing Collaterals Translation
Korean Desktop Publishing projects
Korean Content and Copywriting
Korean Voiceovers and Subtitling
Korean Editing and Proofreading
Korean Customer Service Solutions
Korean Localization of Software and Documentation
Let's Work Together
No matter what your Korean Translations needs are, we are here for you. Call now at +91-9818333952 or mail us at info@chllocalization.com.

The Best Korean Translation Services
CHL localization offers you quality translation and interpretation services at affordable prices. Thanks to our expert native Korean translators, we offer you the best services according to your budget. Whatever be the nature of your project, our expert subject matter Korean translators can help you in conveying and delivering your message to the audience.
Our translation agency carefully hires the translators with whom it works. All our language experts are native Korean speakers and are dedicated to your success. Our translators have more than ten years of experience in the field of translation.
CHL Localization teams are committed to your project and, therefore, guarantee the delivery of your documents at a fast time. Thanks to our dedicated team, you receive a personalized service.
Why Korean Translation Services Holds Importance for You
The Korean language is an East Asian language that is the official and national language of both Koreas: North Korea and South Korea. Approximately 77 million people in the world speak Korean languages. The Korean language is recognized as a minority language in the Yanbian Korean Autonomous Prefecture and the Changbai Korean Autonomous County of Jilin province, China.
Korean is an agglutinative language, which means that its basic sentence structure is subject-object-verb, rather than subject-verb-object as in English. Anyone translating the document should understand Korean word order for proper and professional Korean translation.
As in the English language, the Korean language does not conjugate verbs according to the subject; instead, it uses verbs according to the verb tense and based on those holding the conversation. Different types of conjugation are used for children, parents, friends, officials, and persons of authority, etc.
Korean dialects have a wide range of standardized dialects ranging from Seoul in South Korea and Pyongyang in South Korea, and regional dialects of the Jeju dialect of Jeju Island in South Korea, Gangwon in South Korea, and Kangwon in North Korea. These dialects are not mutually intelligible by most other Korean dialects.
The Korean language is written using a mixture of Hanja and Hangul script, which is a mixture of Chinese ideograms (Hanja) and the Korean alphabet (Hangul). Therefore, it is significant that a translator translating the document must be well informed and knowledgeable about what each strategy should be used.
The Korean language is spoken by the Korean diaspora in many countries, including the People's Republic of China, Japan, and the United States, Russia. Currently, Korean is being hailed as the fourth most popular foreign language in China, following English, Japanese, and Russian.
With a flourishing economy, South Korea has the 4th largest GDP in Asia and the 10th largest in the world. If you are a business looking to enter the potential market, professional translation of your documents is a vital step to facilitate dialogue with your Korean contacts and always stay one step ahead of your competitors.
Reach Out to Us
Get certified Korean translators who have a good hold over both the written and spoken language to stand out. Call now at +91-9818333952 or mail us at info@chllocalization.com.
Enquiry Now
if you need us you can always call us or fill in the form underneath.
Related Services
Locations
Other Languages
LETS GO
Let's Make Something Great Together.