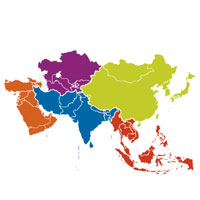 Khmer Translation in India
Khmer Translation Services
CHL Localization aim is to meet the customer needs of Khmer translation services. Our native Khmer language translators have extensive and wide years of experience in translation. Our team have been expertly providing Khmer translation services to countless clients locally and across the globe. Our extensive customer base which ranges from small start-ups to large corporations, non-profit organisations, governmental organisations, and individuals etc. We provide the best Khmer translation services within quick turn-around and reasonable prices.
Our Key Khmer Translation Services
CHL Localization is the Professional Khmer translation service provider who knows how to translate Khmer and various languages into a language that all the customers can understand while ensuring the message gets to the recipients properly. Some of the popular translation services we offer are:
Khmer Translation of Documents
Transcription to and from Khmer
Interpretation to and from Khmer
Khmer Marketing Collateral Translations
Khmer Desktop Publishing projects
Khmer Content and Copywriting
Khmer Voiceovers and Subtitling
Khmer Editing and Proofreading
Khmer Customer Service Solutions
Khmer Localization of Software and Documentation
Your One-Stop Khmer Translation Agency
CHL localization is an integrated Khmer translation agency which provides a high-quality translation by native Cambodian professional translators. Our translators are prompt and provide efficient service. Our native Khmer language translators are proficient and appropriately qualified in their technical areas. Our team ensures that all translated documents are audited by an independent editor to check for the correct use of grammar, spelling errors, missing or wrongly translated words.
We ensure that all translated documents are of highest standards, accurate, complete and free of grammatical errors and free of typographical errors. Our team provides the translated documents in any formats you desire (doc, xls, pdf, ppt, txt,) and will be emailed as an attachment.
Translation Gives You Big Business Opportunities
Get your documents translated to drive sales and make your global business more prosperous through communication in the local language. Call now, at +91-9818333952 or mail us on info@chllocalization.com
Why Khmer Translations Holds Importance For You?
The official language of Cambodia and the language of the native Khmer people is Khmer. Approximately 16 million people speak the Khmer language. It is also the most widely spoken Austroasiatic language after the Vietnamese language.
The Khmer language has been considerably influenced by Pali and Sanskrit language, especially in the royal registers, through various channels such as Buddhism and Hinduism. Due to the geographical proximity and long-term cultural contact, the language has been influenced by Thai, Lao, Vietnamese, and Cham. The Khmer language has also been the earliest written and recorded language of the Mon–Khmer family.
The vast majority of native Cambodians speak Central Khmer, which is the dialect of the central plain where most of the Khmer are heavily concentrated. Regional accents also exist in the remote areas, but these are the varieties of the Central Khmer language.
Cambodia's economy is depended upon the two largest industries which are textiles and tourism. Agriculture activities remain the primary source of income for many Cambodians living in rural areas. The service sector is heavily concentrated on important trading activities and catering related activities. Oil and natural gas also have been found-off shore in the Cambodia region.
Cambodia has integrated itself with ASEAN and WTO trading systems. Cambodia has become an attractive sector for investors because of its low wages, plentiful labour, proximity to abundance raw materials, and favourable tax treatment.
CHL localization understands that the operations of any global business involve communicating with existing and potential clients. We translate your content to communicate with people who do not understand the original language. Our native translators understand the culture and thus take care of localization. When the content is translated into the local language, the buyers can experience the real feel of what you provide and what your company stands for.
Let's Work Together
Get your content translated in Khmer language or to any language of your choice. Call now, at +91-9818333952 or mail us on info@chllocalization.com
Enquiry Now
if you need us you can always call us or fill in the form underneath.
Related Services
Locations
Other Languages
LETS GO
Let's Make Something Great Together.