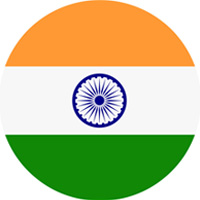 Kashmiri Translation in India
Kashmiri Translation Services
At CHL Localization, we provide Kashmiri Translation Services with precision and quality. Our Kashmiri Translation Services comprises of professionally trained, competent, skilled and certified native Kashmiri speaking translators with subject matter specialization across all industries. We don't just provide English to Kashmiri translations and Kashmiri to English translations, but our translation agency offers Kashmiri translations in more than 200 combinations.
Our Language Translation Services in Kashmiri
We offer a broad range of translation services which will help you focus your business on the target audience. Contact us and tell us about your Kashmiri language requirements, including the following:
Kashmiri Translation of Documents
Transcription to and from Kashmiri
Interpretation to and from Kashmiri
Marketing document translation
Kashmiri Desktop Publishing projects
Kashmiri Content and Copywriting
Kashmiri Voiceovers and Subtitling
Kashmiri Editing and Proofreading
Kashmiri Customer Service Solutions
Kashmiri Localization of Software and Documentation
We are the Pioneers in Kashmiri Translation Services
Whether your Kashmiri language requirements are big or small, CHL localization is always there to assist you with your language service's needs. We have a team of native Kashmiri translators who have many years of experience and specialization in translating many different types of documents including birth and death certificates, registration certificate, contracts agreements, medical documents, marriage certificates and divorce decrees, diplomas and financial transcripts, and any other Kashmiri document you may need translating.
Our translators have specialization in multiple industries, including Information Technology, Telecommunication, Manufacturing, Financial Services, Medical and Health care, Legal, Education, e-learning, e-commerce, etc.
CHL localization understands that consistency is the key, so if you want to market and expand your product to these regions, it is better to look out for the best translation agency in India. CHL localization delivers quality content in Kashmiri language ranging from an ad copy, website, marketing campaign, brochure, app or any other type of promotional material.
Hire the Best
CHL localization is your language partner for bridging language gaps. If you are looking for translation companies to get your message across the Kashmir region accurately, look no further than CHL Localization. Call now, at +91-9818333952 or mail us on info@chllocalization.com. We are happy to clear your doubts.
Why Should You Hire Kashmiri Translation Services?
The Kashmiri language has been granted the official status in India. It has also been accorded official status in Jammu and Kashmir, the northernmost state of India. Kashmir language is classified from the Dardic subgroup of Indo-Aryan languages and primarily spoken in the Kashmir Valley and Chenab Valley of Jammu and Kashmir of India. About 6 million people speak the Kashmiri language in Jammu and Kashmir and among the Kashmiri diaspora which are present in other states of India, Neelam Valley and Leepa Valley of Azad Kashmir, Pakistan. The language is written in both the Devnagari script of the Arabic and Hindi script.
The economy of Jammu and Kashmir's is predominantly dependent on agriculture and allied activities. The region is famous for Kashmiri saffron, agriculture exports, fisheries, cottage industries, manufactured exports such as handicrafts, and horticulture. Millions of tourists visit Kashmir every year to enjoy its scenic charm.
If you want to invest in the infrastructure, IT sector, or small and medium enterprise sectors, agriculture value chain, handicrafts, horticulture, tourism and leather sectors, you should target the Kashmiri speaking population and hence, localize all your business documents in the Kashmiri language. To grow and expand your business among the Kashmiri speaking population, you must ensure all your marketing and business messaging is in the Kashmiri Language.
At CHL Localization, our goal is to support our clients in expanding their global communication presence. Human, professional, and committed translators are at our core to ensure the highest standard and comprehension for the end-user. We provide you with the accurate, highest quality certified Kashmiri translation services.
Let's Work Together
We ensure comprehensive security and confidentiality for every Translation requirement. No matter what your Kashmiri translation needs are, CHL Localization can provide for them. Call now, at +91-9818333952 or mail us on info@chllocalization.com
CHL Localization provides translation services in Kashmiri language in the following combinations:
Kashmiri to English translation services
Kashmiri to English localization services
English to Kashmiri localization services
Enquiry Now
if you need us you can always call us or fill in the form underneath.
Related Services
Locations
Other Languages
LETS GO
Let's Make Something Great Together.