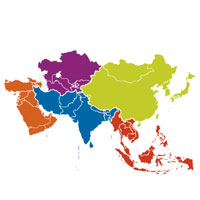 Japanese Translation in India
Japanese Translation services
CHL Localization is an India-based Japanese language service provider group specializing in offering high-quality translation, interpretation, localization, transcription, and transcreation services in all major languages.
Our Japanese translation services provide translation services ranging from individuals and small companies to big corporate houses and government agencies. The primary aim of CHL Localization is to provide the highest-quality, cost-effective language services to its customers. We ensure that our clients receive fast, accurate, and quality translated documents.
Our quality translation services, customer-focused attitude, and project governance methods empower us to serve customers' differing needs. By integrating the latest technology tools and best language translators in our organization, we have been able to hold to the trust of our customers and present them with Japanese translations that are at par with the global standards.
Our Core Japanese Translation services
If you are looking to gain a foothold in Japan, CHL localization is the perfect language solutions provider. Our Japanese translators are very much aware of Japanese cultural and historical traditions in order to convey both the meaning and context of the language. With a network of experienced, sector-specific Japanese translators ready to accept your brief, our translation services include:
Japanese Translation of Documents
Transcription to and from Japanese
Interpretation to and from Japanese
Japanese Marketing Collateral Translation
Japanese Desktop Publishing projects
Japanese Content and Copywriting
Japanese Voiceovers and Subtitling
Japanese Editing and Proofreading
Japanese Customer Service Solutions
Japanese Localization of Software and Documentation
High-Quality Translation at a Speed!
Get certified Japanese translators who have a good hold over both the written and spoken language to stand out. Call now at +91-9818333952 or mail us at info@chllocalization.com.
The Best Japanese Translation Services
At CHL Localization, we will always have the perfect certified and native Japanese translator and language expert to meet your needs. Whether you're looking for something economical, quick, or highly accurate Japanese translation services, we've got you covered.
Our average Japanese translator experience is over 10+ years, and they regularly undergo a quality test. All our translators are certified in Japanese and possess proven track records of professional and precise translations.

We accordingly assign specialized subject matter translators to your project depending on your industry verticals based on your translation and your budget. Our translation agency will consult with you thoroughly depending on your requirements and will always best deliver you quality translations within your budget.
Why Japanese Translation Services Holds Importance for You?
Japanese is the de facto language spoken by the people of Japan. Approximately 128 million, primarily in Japan, speak the language. The Japanese language is a member of the Japonic (or Japanese-Ryukyuan) language family. Japonic languages have been classified with other language families, such as Austroasiatic and Ainu.
Although the Japanese language is spoken almost exclusively in Japan, it also is spoken outside the country. Due to the annexation of Taiwan and Korea by the Japanese during World War II, the local people in China, the Philippines, and various Pacific islands learned the Japanese language of the empire. As a result, many elderly people in these countries speak the Japanese language.
Japanese emigrant communities in Brazil, the United States, speak the Japanese language. Japanese emigrants can also be found in Argentina, Peru, Australia (especially in the eastern states), Canada, and the Philippines.
Japan has become a highly developed, free-market economy. The economy has become the world-third largest nominal GDP country and the fourth-largest country by purchasing power parity.
As Japan is home to many multinational companies, and also the widespread interest of companies across the world in the Japanese economy, the demand for Japanese language experts has increased many times in the past few years.
If you want to invest in the infrastructure, small and medium enterprise sectors, IT sector, agriculture value chain, handicrafts, fisheries, tourism, you should target the Japanese speaking population and hence, localize all your business documents in the Japanese language. To grow and expand your business among the Japanese speaking population, companies are in constant need of translators and interpreters to continue their work effectively.
Let's Work Together
No matter what your Japanese Translations needs are, we are here for you. Call now at +91-9818333952 or mail us at info@chllocalization.com.
Enquiry Now
if you need us you can always call us or fill in the form underneath.
Related Services
Locations
Other Languages
LETS GO
Let's Make Something Great Together.