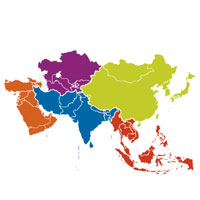 Indonesian Translation in India
Indonesian Translation Services
If you're looking for an Indonesian translation service, then CHL Localization is the answer. With hundreds of native Indonesian translators in our team, working around the clock to deliver the best-translated document, CHL is the leader in the Indonesian translation industry.
Our native Indonesian translators have in-depth and professional experience translating business content into and from Indonesian. We understand that quality is the key to translate from Indonesian to other languages and vice versa. Our wide network of native translators has years of professional experience translating business content into and from Indonesian.
CHL Localization is the unique platform that enable us to offer only the most affordable prices for your Indonesian translating needs.
Our Core Indonesian Translation Services
As your language service provider, CHL localization gives you access to thousands of certified and native Indonesian translators who have years of translation and localization experience. Our intuitive platform and embedded quality tools can help you manage any Indonesian projects, which require translating. Our translation services include:
Indonesian Translation of Documents
Transcription to and from Indonesian
Interpretation to and from Indonesian
Indonesian Marketing Collateral Translation
Indonesian Desktop Publishing projects
Indonesian Content and Copywriting
Indonesian Voiceovers and Subtitling
Indonesian Editing and Proofreading
Indonesian Customer Service Solutions
Indonesian Localization of Software and Documentation

The Best Language Service Provider
CHL Localization has the best team of native translators bridging the language gap consistently. Call us at +91-9818333952 or mail us at info@chllocalization.com.
The Best Indonesian Translation Services
CHL localization provides you professional Indonesian translation services. Our translation agency provides the highest quality of translation services for over thirty years. Our translation team has unsurpassed skills.
CHL Localization offers comprehensive certified translation services for all statutory and legal documents. These include diplomas, marriage licenses, transcripts, contracts, birth and death certificates, and all constitutional contracts. All executive agencies accept our properly translated document.
All translations are conducted by native Indonesian speakers. Each Indonesian linguist has a genuine background in translation and interpreting. Our Indonesian experts provide document translations that are authentic, accurate, and culturally correct.
Why Indonesian Translation Services Holds Importance for You
The Indonesian language, also called 'Bahasa Indonesia', is the official language of Indonesia. The Indonesian language is the standardized variety of Malay, which is an Austronesian language.
Indonesia is the fourth most populous nation in the world, and its majority of the population speaks Indonesian; thus, making it the most widely spoken language in the world.
Approximately 150 million people speak the Indonesian language. In Indonesia, it is the first language in urban areas, and it is used as the second language in rural parts of Indonesia. In Australia, the Indonesian language is one of the three most popular Asian Languages, which is used together with Japanese and Mandarin. In fact, the Indonesian language has been taught in Australian schools and universities for a long time.
The Indonesian language is also recognized by the constitution as one of the two working languages in East Timor, which was occupied by Indonesia between 1975 and 1999. Most people living in Australia's Cocos Keeling Islands in the Indian Ocean, and also some parts of the Sulu area of the southern Philippines speak the Indonesian language.
To help you promote your business in Indonesia by conveying the right messages to your Indonesian contacts, CHL localization aims to offer professional Indonesian translation services. Our skilled native Indonesian translators remain unsurpassed to date.
Our team of native Indonesian translators continuously strive to deliver 100% precision and accuracy in literary as well as domain-specific fields like medical, legal, manufacturing, technical, market research, etc.
Our competent team and trusted translators offer error-free and professional document translations to our customers in any format that you want. Known for our highest accuracy in translation, we have been the preferred choice for national and multinational companies.
Reach Out to Us
To get started, obtain a free quote by calling us at +91-9818333952 or mail us at info@chllocalization.com.
Enquiry Now
if you need us you can always call us or fill in the form underneath.
Related Services
Locations
Other Languages
LETS GO
Let's Make Something Great Together.