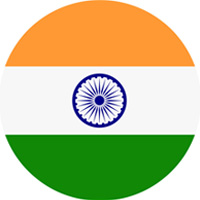 Hindi Translation Company in India
Hindi Translation Services
At CHL Localization, we comprehend the complexities of Hindi to other language translations. Our native certified Hindi translators are handpicked for their expert knowledge and extensive experience in Hindi Translations Services. Not only do our efficient translators have a solid grasp of both languages, but they also understand the linguistic, syntactic, and, cultural intricacies that come into play when the translations are being executed between the language pair.
Our Language Translation Services in Hindi
Whether it is scientific or technical manuals, legal and medical documents, academic write-ups, or pre-sales marketing messaging, CHL Localization Hindi translation services are capable of delivering high-quality translations designed to maximize engagement on your content. We offer various Hindi Translation services, including the following:
Hindi Translation of Documents
Transcription to and from Hindi
Interpretation to and from Hindi
Hindi Desktop Publishing projects
Hindi Content and Copywriting
Hindi Voiceovers and Subtitling
Hindi Editing and Proofreading
Hindi Customer Service Solutions
Hindi Localization of Software and Documentation
The leader in Hindi Translation Services
CHL localization possesses technical superiority as well as the language and subject-matter expertise which results in the best-translated documents. Our high-quality, contextually impactful translation facilitates the communication of new ideas across the globe. We have been here in the translation industry for over more than 30years, thus catering to both individuals and organizations, as we understand them better.
Our highly experienced and competent Hindi translators are native speakers of your target language and thus making sure that your documents is completely compliant with local regulations, customs, and expectations.
We possess the experience and the dedication to quality to help you spread your words across borders and cultural barriers. In all that we do, our guiding mission is to help you reach your target audience and infusing them with excitement and enthusiasm for your innovations and offerings.
We are India's leading translation agency, and our professional native Hindi Translators are just a single click away to assist you with your various translations requirements. We promise you the most accurate, supreme quality certified translation services, localization services, and interpreting solutions in the industry.
Thinking About Hiring a Hindi Language Translation Agency?
You have come to the right place! Get high quality translated native documents at a fast speed and at the competitive prices. Call now at +91-9818333952 or mail us on info@chllocalization.com for all your translation.
Need For Hindi Translation Services
Hindi is so predominantly widespread that about one-third population in the world speak it. Hindi has been granted official status in India and is recognized in Indian constitution as among one of the 22 languages. Devanagri script is used in Hindi which originated from the Brahmi alphabet.
About 500 million people speak Hindi worldwide. Hindi is predominantly spoken in Delhi, Himachal Pradesh, Uttar Pradesh, Haryana, Punjab, Rajasthan, Bihar, Madhya Pradesh, parts of Maharashtra, Andhra Pradesh & Karnataka. Hindi speaking diaspora can also be found in Mauritius, Trinidad, UAE, Fiji, Guyana, Singapore, Yemen, South Africa, Germany, Uganda, Nepal, UK, US, Australia & New Zealand.
As the Indian economy has flourished, it has gained wide popularity and attention from small and big corporations to expand their business. If you want to expand and invest in India, it is important that you ensure that your brand message reaches the wide audiences speaking Hindi.
To gain a foothold in India, you need to work with a translation agency that could assist you in translating various documents.
CHL localization makes it possible for you to achieve translated documents at a rapid pace with exceptional accuracy. CHL Localization provides you with supreme Hindi translations. We have native Hindi translators who understand the complexity and the versatility of the language. We provide competent and professional translations for a broad range of industries. Our translators have the expertise of various sectors, and thus our account managers will ensure that you get a translator who is proficient within your specific field.
Overcome Language Barriers and Hire a Translation Agency Now
Get competent and efficient native Hindi Translators who have expert domain knowledge of various industries. Call now at +91-9818333952 or mail us on info@chllocalization.com for all your translation.
CHL Localization provides translation services in Hindi language in the following combinations:
Translating English into Hindi and vice versa
Translating Bengali into Hindi and vice versa
Translating Gujarati into Hindi and vice versa
Translating Assamese into Hindi and vice versa
Translating Punjabi into Hindi and vice versa
Enquiry Now
if you need us you can always call us or fill in the form underneath.
Related Services
Locations
Other Languages
LETS GO
Let's Make Something Great Together.