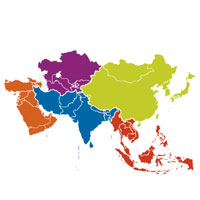 Dari Translation in India
Dari Translation Services
CHL localization provides you with an exceptional Dari translation service that helps you get your message across the wide speaking Dari population. Our team of native Dari language translators possesses detailed knowledge of a broad range of global markets, ensuring that your content truly speaks to your customers. At CHL localization, we offer much more than just translation services, we are your language growth partner, working with you at every step of the way to deliver the best-translated documents.
Our Key Dari Translation Services
CHL Localization offers the service of highly-skilled, native Dari translators that delivers an error-free translated document. We provide Dari translators who specialize in your particular languages and subject matter to deliver the high-quality documents you deserve! Our language translation includes:
Dari Translation of Documents
Transcription to and from Dari
Interpretation to and from Dari
Dari Marketing Collateral Services
Dari Desktop Publishing projects
Dari Content and Copywriting
Dari Voiceovers and Subtitling
Dari Editing and Proofreading
Dari Customer Service Solutions
Dari Localization of Software and Documentation
Your One-Stop Dari Translation Agency
CHL Localization is one of the most experienced professional Dari Translation agency that offers language translation services for small-start-up, corporate clients and individuals all over the world. Our team consist of native, experienced and highly skilled Dari language translators, interpreters, editors, proof-readers and quality assurance managers with a solid professional background.
We aim to provide translations of texts from Dari to more than 200 languages and vice versa. The majority of our-in-house translators are native because we believe that native translators understand the culture and nuances of the language effectively. We are happy to provide you with the best translation services to achieve your goal.
Our Dari translation team consists of competent, experienced and certified native translators. Each Dari language translator specializes in specific fields such as Technical, Financial, Medical, Legal Translation and more. We provide certified Dari Translation Services for:
Driver Licenses
Personal Correspondence
School Certificates
Passport
Immunization Cards
Medical Reports
Police Clearances
Court Orders
Technical Manuals
Medical Manuals
Employee Manuals
Birth Certificates
Marriage Certificates
Divorce Certificates
Death Certificates
Translation Gives You Big Business Opportunities
Get your documents translated to drive sales and make your global business more prosperous through communication in the local language. Call now, at +91-9818333952 or mail us on info@chllocalization.com
Why Dari Translations Holds Importance For You?
Dari or Farsi is a political term which encompasses the varieties of the Persian language spoken in Afghanistan. Since 1964, the Afghan government has officially recognised and promoted the Dari term for the Persian language. Hence, in many western cultures, it is also known as Afghan Persian. Dari language has been defined in the Constitution of Afghanistan and has also been recognised as one of the two official languages of Afghanistan, besides Pashto.
Approximately 25-50% of the population of Afghanistan speak Dari, and therefore it is the most widely spoken language in Afghanistan. Dari is also spoken in Iran and by Afghans in Pakistan, who are a part of Afghan diaspora in the region.
The lingua franca of Afghanistan is Dari Persian, and about 80% of the population understands the language. Iranian Persian and Dari Persian are mutually intelligible, and there vocabulary and phonology differences in them. Dari is written in a version of the Perso-Arabic script.
In the last decade, the economy of Afghanistan has improved significantly due to the return of a large number of wealthy expats, modernization of the nation's agriculture and setting up of international trade routes with its neighbouring and regional countries.
Chl localization offers you the best Dari Translation to facilitate the communication and your ideas to people From Afghanistan effectively. We have professionals and native Dari Translators that can translate your documents in any language. With the right set of translation, you can reach across a broad set of native Dari speaking population
Reach Out To Us
Get your content translated in Dari language or to any language of your choice. Call now, at +91-9818333952 or mail us on info@chllocalization.com
Enquiry Now
if you need us you can always call us or fill in the form underneath.
Related Services
Locations
Other Languages
LETS GO
Let's Make Something Great Together.