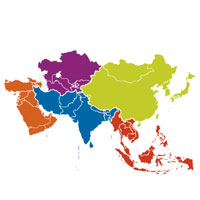 Burmese Translation in India
Burmese Translation Services
CHL Localization is the choice of most small business, corporation and individuals for the best Burmese Translation Services. We specialise in translation, localization and managed language solutions for all projects, whether big or small. Our native and professional Burmese translators provide friendly service with an in-depth understanding of project requirements. Our translation agencies work with total respect for our clients' deadlines and budgets.
Our Key Burmese Translation Services
We provide Burmese translation services in more than 200 language combinations from across the world. Our translation services include:
Burmese Translation of Documents
Transcription to and from Burmese
Interpretation to and from Burmese
Burmese Marketing Collateral Translation
Burmese Desktop Publishing projects
Burmese Content and Copywriting
Burmese Voiceovers and Subtitling
Burmese Editing and Proofreading
Burmese Customer Service Solutions
Burmese Localization of Software and Documentation
Unparalleled Burmese Translation Agency
CHL localization hires the best native Burmese language translators that are matched with the subject matter and content of your project. Our completed translation projects meet and exceed international quality standards. CHL localization takes pride in the superior talent of our native, experienced Burmese language translators, editors and skilled content managers and proofreaders. At CHL localization, we have a past track record of delivering high-quality translation services.
At CHL localization, our translators have professional expertise of various industries including Telecommunication, Manufacturing, Medical (Pharmaceuticals, Research, Clinical Trials, and Health care), Information Technology, Financial Services, Legal, Education, e-learning, e-commerce, etc.
CHL localization has the capability and the potential to provide the kind of translations you need for all types of business or individual requirements.
Get Global With Translation
Get your documents translated to drive sales and make your global business more prosperous through communication in the local language. Call now, at +91-9818333952 or mail us on info@chllocalization.com.
Why Burmese Translations Holds Importance For You?
The Bamar people and related sub-ethnic groups of the Bamar speak the native Burmese language. It is also spoken by some ethnic minorities such as Mon. The Burmese language is the most widely spoken language of the Tibeto-Burman languages. Approximately 39 million people speak Burmese as their first language. In the ethnic minorities in Burma and those in neighbouring countries, Burmese is spoken as the second language by another 10 million people.
Myanmar government has brought in recent changes which have resulted in both the relaxing of sanctions on the country a revival of the tourism and business in the country. Over the years, the government have ushered in new reforms which have brought in opportunities for trade and tourism. There has been an increase in investment in infrastructure and various industrial sectors as the relation of the country has become normalised with the world.
Myanmar has opened its door to the world, and thus Burmese language and our translation agency hold much importance. We have a team of the best experienced, native Burmese translators that know the culture of Myanmar and understand the nuances of the grammar.
When you are embarking on a Burmese translation project, one has to pay special attention to the usage of non-Unicode compliant fonts, stacked consonants as well as complex ligatures, absence of spacing between words, the significance of vocabulary and grammar for the appropriate content use. It is crucial that you select the right Burmese translation services for your project.
CHL localization understands all your needs for translation and thus open the world for you by bringing the world at your door. We help you overcome the language barriers by offering the best native Burmese translators that deliver high-quality, translated documents. If you want to reach the wide Burmese speaking population, hire the best translation agency that has become a synonym in the world of translation.
Let's Work Together
Get your content translated in Burmese language or to any language of your choice. Call now, at +91-9818333952 or mail us on info@chllocalization.com.
CHL Localization provides translation services in Burmese language in the following combinations:
burmese to english translation
english to burmese translation
burmese to chinese translation
Enquiry Now
if you need us you can always call us or fill in the form underneath.
Related Services
Locations
Other Languages
LETS GO
Let's Make Something Great Together.