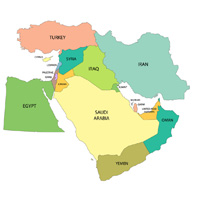 Arabic Translation in India
Arabic Translation Services
CHL localization is a premium language service provider, providing a linguistic solution for all Arabic translation services. Our native Arabic translators have extensive knowledge of the business and cultural environment of the Middle East. Our Arabic translators have the required skill for providing high quality translated documents. Our native certified translators have deep subject matter expertise, and our team includes specialists from the field of legal, business, medical, survey, and website translation services.
Our Core Arabic Translation Services
If you want exceptional Arabic translation services, you shouldn't look further than CHL Arabic Translation services. We have a network of thousands of certified Arabic linguists who provide the highest quality translated solutions on time and budget.
The following are critical specialized services:
Arabic Translation of Documents
Transcription to and from Arabic
Interpretation to and from Arabic
Arabic Marketing Collateral Translation
Arabic Desktop Publishing projects
Arabic Content and Copywriting
Arabic Voiceovers and Subtitling
Arabic Editing and Proofreading
Arabic Customer Service Solutions
Arabic Localization of Software and Documentation
Hire the Best Translation Services
Get your documents translated to boost sales and make your global business more successful through communication in the local language. Call now at +91-9818333952 or mail us at info@chllocalization.com.
The Best Arabic Translation Services
CHL localization has extensive experience in delivering Arabic language translations that combines accuracy, seamlessness, affordability, quality, commitment, and client satisfaction. We provide premium Arabic translation services for all kinds of documents to meet our clients' multiple requirements. We provide documents in the field of finance, marketing, gaming, telecommunications, medical, tourism, legal, education, e-learning, pharma, biotechnology, agriculture, hospitality, FMCG, technical, IT, commerce, engineering, automotive, web development, defense, and app localization.
If you work with our professional language translation company, it will be of great advantage to your business. While dealing with an international audience, we hire the best native Arabic translators, which cater to diverse business segments. To drive our client business vision and fuel their growth globally, we provide the highest quality translated documents.
Why Arabic Translation Services Holds Importance for You
Arabic is a Semitic language and has now emerged as the lingua franca after the Arab world. The Arabic language is initially used to describe the people living in the area surrounded by Mesopotamia in the East and Anti- Lebanon mountains in the West, in Northwestern Arabia, and the Sinai Peninsula. Approximately 1.8 billion people speak the Arabic language, and it has also been declared as one of the six official languages of the United Nations. If we combine the many Arabic languages, there are perhaps 422 million speakers in the world, therefore making it the fifth most spoken language in the world.
The Arabic language has a broad reach where it is spoken in more than 27 countries across the Middle East, East, and North Africa. Arab countries are now seen as a potentially large market for many businesses. The Arab countries are now presently regarded as part of the largest importers and exporters across the globe. So, if you want to do business in these countries, you must hire an Arabic translation agency that caters to your translation needs.
The Arab world is well known for its consumer strong purchasing power, which is significant to the global businesses that aim to sell every product and service from tech products to tourism services, petroleum, textiles, sharing economy services, and much more. Since the localization services have become an essential need and a vital success factor for many companies, they want to extend their global footprint into the untapped Middle East market.
As a global business, you will need the help of native certified Arabic translators to help you understand all the language requirements in these countries. Arabic translation services provide product information,policies, specification, cultures, and procedures of the respective country.
Let's Work Together
Get your content translated into Arabic language or to any language of your choice. Call now at +91-9818333952 or mail us at info@chllocalization.com.
CHL Localization provides translation services in Arabic language in the following combinations:
Arabic to English translation services
English to Arabic translation services
Arabic to English localization services
English to Arabic localization services
Enquiry Now
if you need us you can always call us or fill in the form underneath.
Related Services
Locations
Other Languages
LETS GO
Let's Make Something Great Together.