Essential Component of Voice Over you Must Know About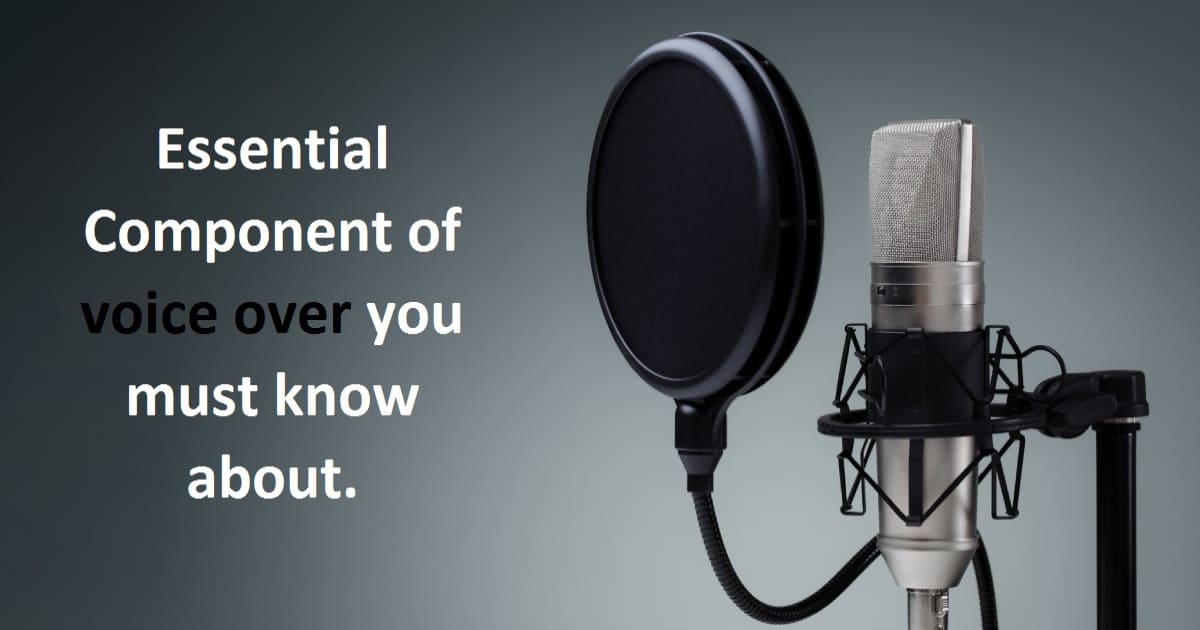 Are you new to the voiceover industry? It is vital that know the essential component of voice over to achieve success. There are certain pieces of equipment that you might need. As the best e-learning voiceover company in Hyderabad, we will tell you the equipment that will allow you to maximize your skill and create high-quality work.
For any part of the media, voice-overs are considered very important. They are used to persuade, inform people, and even generate narratives. If you're looking for voice-overs, they can be found in any medium, be it news, events, or videos. Creating a great voice over ensures that your audience gets impressed by you.
We understand that a great voiceover requires stellar voice quality. But there's also no denying that there are absolute essentials and tricks of the trade that are needed to make the output as good as possible. The quality of your work depends on the available tools you have since you want to capture excellent sound quality and impress the audience with your skills and abilities.
Let us see what the voice-over essentials are?
1.The Script
Whenever a voice-over artist begins, he needs a script that contains all the words for the video. These words accompany the visuals, and this gives a visual element corresponding to the script. If we say that the success of a voiceover relies on the script is an understatement because the whole narrative and the storytelling concept are dependent on the voiceover artist as to how well he can capture the audience's attention. But if the script is overlooked, this could cause a massive problem because it can ruin the production.
An E-learning voiceover company in Hyderabad provides a script that has a clear message. Before writing the script, our team set the goal and embed the critical message in the script. We understand that it is easy to get distracted and lose sight of the purpose, and hence it is integral to pick a tone and a language that your audience can relate to. For instance, a video aimed at millennials needs to have a voice that relates to today's youth and which they could associate with themselves
Another crucial essential tip is to keep in mind is never to forget your call to action. You want your audience to know what you want to do in the final line. It would help if you asked them to email, visit, call, or text, or whatever the client desires.
Also Read Why Do We Need Translation Services?
2. Soundproofing
When we're talking about voiceover essential, it does not just concern your equipment. You may also want to consider soundproofing when you're walking in your home studio. You do not want yourself to be disturbed by someone as your conducting a recording. The last thing you want to hear your housemate blaring music in the background of your video that you are recording.
With soundproof proofing, you can record quality voiceovers, which will improve and sound more professional. E-learning voiceover company in Hyderabad helps you get most of your voice or work if you don't want to invest in your soundproofing. We have the state-of-the-art equipment that can give you a noise-free and acoustically accurate environment where you can create a high-quality work
3. Microphone
And the voiceover artist, you may want to purchase the best quality microphone for recording your voice. This tool is among the most important voiceover essentials as it captures your voice. Without questions, USB port microphones are the best choice for a voiceover artist if money is your major concern. If you want to record the best quality possible, you should invest in a dynamic broadcast microphone that can give you excellent performance.
3. Headphones
If you do not have a headphone, you won't be able to hear your recording correctly. Most voiceover artists do not like to use headphones while recording since it may impede their ability to hear their natural voice. However, the purpose of headphones in editing is unsurpassed when you're wearing headphones for long hours and making sure they are comfortable. Do not wear a simple earbud that can reduce the sound with high-quality fidelity.
4. Audio interface
One of the most important voiceovers essential is the audio interface. E-learning voiceover company in Hyderabad has the required equipment which can enable you to control and translate the signal from your mic to your laptop or computer.
5. Editing software
As a voiceover artist, you can't pass your work without editing it first. As a result, you may need auditing recording software. An E-learning voice over company in Hyderabad edits your recording before exporting it, and this ensures that your output is flawless. There are also certain software options that you can choose and download. To get the best result possible, use premium software that will give you complex features.