Know the Future Trends in Translation Services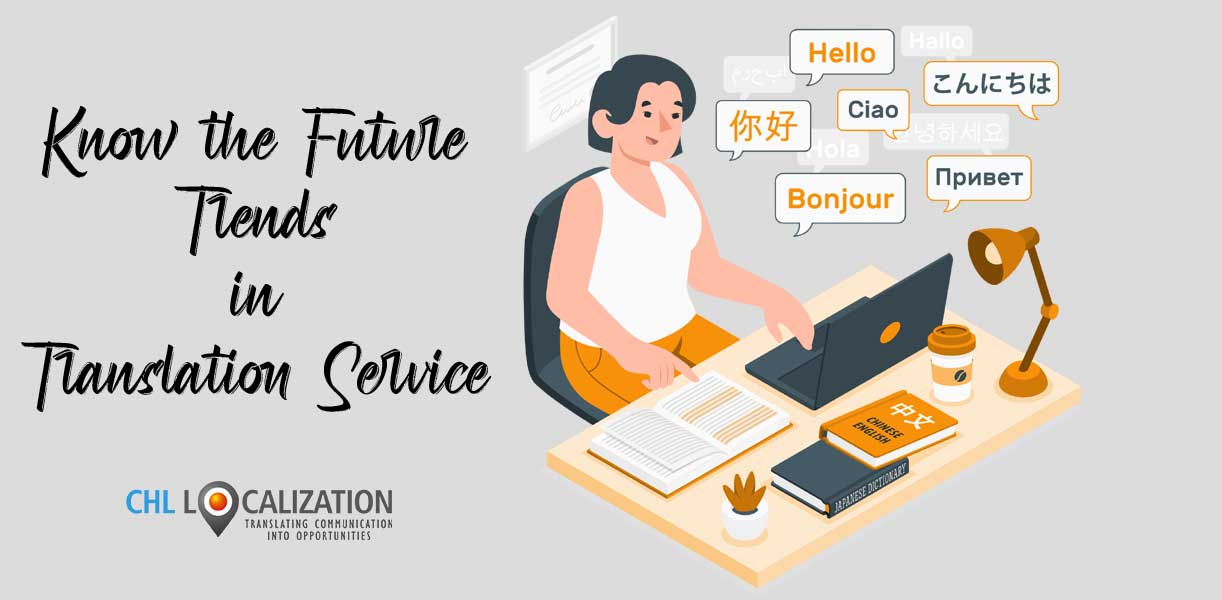 The recent years have been as an unusual time for the translation industry, as they need to deal with many sectors in the frightful time of the pandemic. Not only this, the localization and translation industry is changing with great speed. So, there have been a few changes in their upcoming trends as well as with the changing needs. While talking about the future of translation, many people may think that robots are translating hundreds of words in just a few seconds. So, let us talk about the real future trends of translation services and how the translation services company in Delhi can help you out.
Technology has already brought several crucial changes in the industry of language service. Besides the things all people see, like Skype's translation program or Google translate, there are a lot of changes which the experts have only thought about 20 years ago. The Computer-Aided Translation tools, also known as CAT, translation memories, instant communication, and exhaustive glossaries are just a single click away, and those are examples of how technology has helped us in making our lives much easier in the last several years.
Moreover, the best part is yet to come for the future of the translation industry, according to the professionals in this sector. The upcoming trend of translation is a mixture of several intelligent tools as well as the subject matter experts working together in order to provide flawless readings for competitive prices. So, let us talk about those amazing trends.
1. The new standard will be automated translation
Nowadays, automation has become a reality in the industry of translation. It enables those language service providers to save time and money and optimize workflows with every new project. Many companies already choose to automate parts of the procedure, but the future of translation brings some more automated tools for translation for the users.
From that software that can convert file types to CAT or Computer Aided Translation, technology helps numerous translators to reduce the time required for completing the tasks during the translation procedure. In this way, professionals can focus on the creative part of the task instead of wasting time translating those technical terms or pushing files back and forth.
The companies need to integrate a flawless content management system in order to reduce turnarounds. This software will turn into a more intuitive one to complete all those crucial operations during the translation procedure. For the best support, you can seek help from the translation services company in Delhi.
All those crucial features you need will be just a single click away, like:
Easier access to all those past works and multiple resources to collect the required information.
An accurate translation memory that contains useful data regarding technical vocabulary and terminology.
Proper tracking, to offer you updates regarding your progress.
Multilingual SEO enables you to accurately integrate local keywords into your content.
These kinds of tools can be a substitute for manual transfers, emails, and file transfers for good. In this way, there will be less time wasted on those repetitive tasks and also have less room for human errors. Proofreading tools will also become easier to use as well. Thus, it can eventually increase the accuracy as well as can reduce the time required to check each and every translation. To do this task flawlessly, you can always contact a translation services company in Delhi.
2. Cheaper, faster and global service
In this era of technology and digitalization, physical borders do not have any effect on businesses anymore. Any company, both small and large, can work globally. Moreover, the secret for a business to become internationally successful, you will need the help of translation services.
Globalization has already generated long-lasting expansion in the industry. So, the professional translators need to adapt to the increasing demand, which means they will need to tailor their offers in order to meet new requirements.
To conquer new markets, the companies need something more than just word-to-word translations. They need to look for localization services, which a specific procedure that goes beyond just simple translation. So, now the challenge is not about crossing the physical barrier anymore because the brands need to overcome cultural differences as well. For this, companies need to present engaging, valuable, and easy-to-read content that can be understood by global audiences.
Businesses need to adapt their brands to international audiences; they may change the names of their products and reinvent their marketing strategy in order to connect with individuals from different cultures. Everything needs to happen fast for companies to stay ahead of competitors. This means that localization engineers and translators must deliver high-quality services as soon as possible. Only through this they can satisfy their clients and also the clients of their clients.
Along with speed, translators need to deal with another crucial element which is cost. As the size of the industry is increasing, the translation services need to be cheaper for translators to work in a competitive environment. With the need for cost-effectiveness and tight deadlines, translators need to learn to integrate those CAT tools into their day to day tasks. The concept of complete human translation without the help of computers will not exist in the future.
It doesn't mean that those professional translators will lose their jobs; however, they will need to learn how to use multiple tools to increase the speed of the entire translation procedure.
Lower costs and fast turnarounds with no effect on quality are already crucial in the translation industry. However, things will accelerate even more in the coming years with the development of some more intelligent and efficient tools. In addition to this, several new features will eventually make the translation procedures much faster, easier, and also more accurate. So, in order to survive in this environment and show something new, you can seek help from the translation services company in Delhi.
Therefore, the future trend of translation service is full of opportunities, and for the best results, you can contact the translation services company in Delhi.