What is the use of legal translations?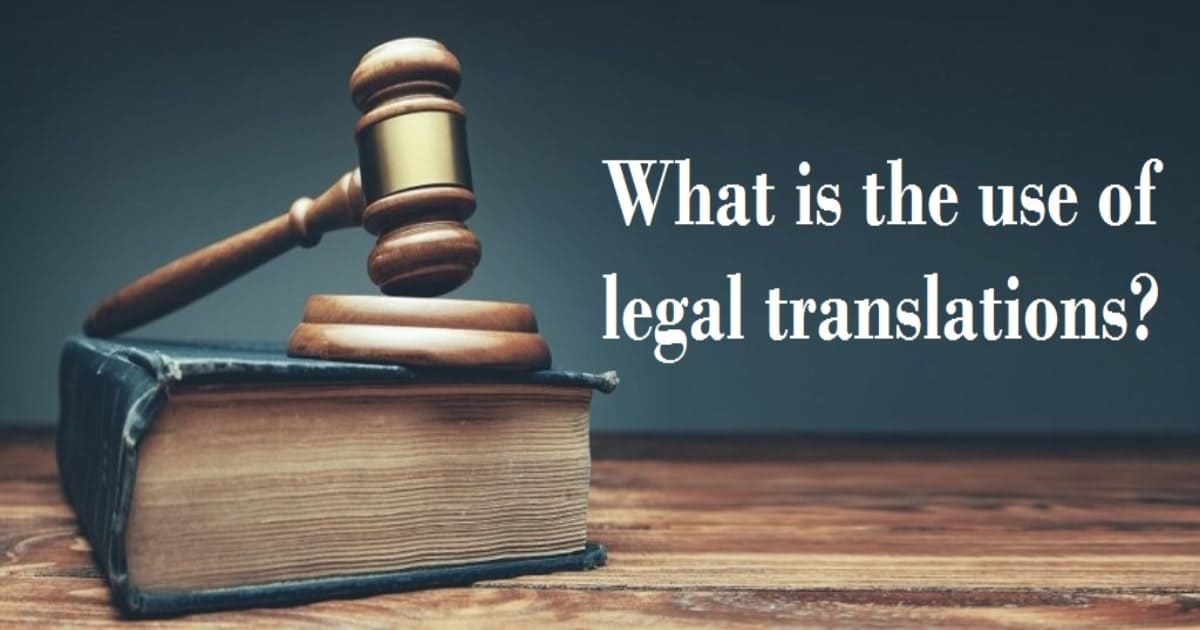 In the legal field, words mean everything and therefore, legal translation word definition has to be precise and accurate. Legal translation services translate large volumes of documents within the criminal and civil systems. Depending on a legal case emergency need, some of the translations are planned, and some are unplanned.
If you are doing business in a foreign country and need documents that have to be translated immediately, you need to hire legal translation services.
Companies that do not hire reliable and quality legal translation services often complain of disastrous results. Normal translators often face the challenge of understanding the legal jargon, especially if you do not have any law background.
Why do Businesses need a legal translation?
There are many reasons why businesses require legal translation. For instance, if you're planning to sell goods in another country, you need to acquire the knowledge of countries law regarding the sales of goods, taxation, exports, imports and so forth. Or if you want to collaborate or enter into a partnership with an overseas investor, he may wish to review your patent and contract in his native language. Or perhaps a member of your staff has moved overseas and will be working remotely, so the employment contract needs to be translated as part of his residency application paperwork.
Whatever the reason, it is important to use professional legal translations services to avoid any mistakes in converting legal documents from one language to another because any error can prove costly to your business- both in terms of finance and reputation!
Let us tell you what the benefits of using legal translation are.
Ensured quality
One of the important benefits of hiring legal translation services is that you always receive assured quality. Law is a very complex subject, and therefore it requires an individual with the knowledge to offer precise legal translation services. Translation services have a team of legal translators that can communicate the technical or complex concept from one language to another.
Culturally correct
When you are translating the legal content from one language to another, the context is always important. When you hire a professional legal translation service, the most crucial benefit is that the translation will also be culturally correct and socially accepted. The professional translator will not only ensure that the content is readable, grammatically correct, in an organized format, but it will also make sense as far as the context is concerned.
Also Read Why Do We Need Translation Services?
Consistency
When you hire a professional legal translation service, you will receive the translated document that is consistent in nature and having some particular flow. Legal translators provide consistency in the final output. As most legal documents are usually in the long prose, legal translators are well-positioned to handle the translation. Since these agencies are professionally run, they will maintain the consistency in protecting your and their brand.
Accuracy
A professional legal translator will provide you confidentiality and also accuracy in a legal translation. As the translators are from the legal profession, they know legal terminology, and hence, the translators immediately know what the correct terms are in the targeted language. If the product is not entirely accurate, there could be serious repercussions for the translation's beneficiary. A poorly worded legal translated document could lead to the wrong outcome.
Reliable, professional legal translation services can accurately translate any type of legal documents, ensuring that the document's exact meaning is put down in the final document. This means that the court will accept the translation document as accurate without any doubt about the translation accuracy. This will ensure that you can conduct your business operations smoothly.