What are the obstacles to medical translation?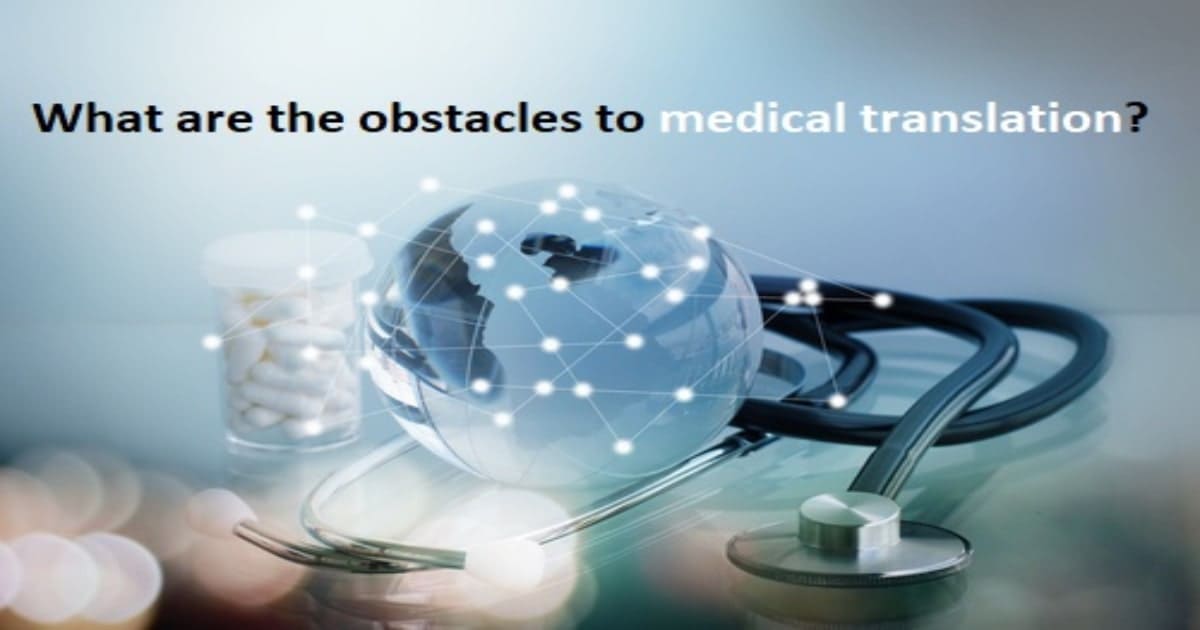 The translation in any language is difficult, but it is challenging when combined with medical translation because the scientific and health-related terms, technical matters or treatments, and diseases do not exist in other languages or cultures.
With the emergence of new diseases and therapies, medical translation has become even more complicated. Translation company in India makes medical translation seem simple and more effortless. As new global epidemics continue to challenge medicine, there is a demand for multilingual translation in the medical field. But the medical terminology is so broad and extensive that there are sometimes issues with attempts of a translator to create correct and corresponding translations across languages.
If you are a medical translator in the medical industry, it demands a deep understanding of medical vocabulary in two or more languages. Being bilingual doesn't necessarily mean the translator will translate the medical jargon from one language to another because for people outside that particular profession, it is challenging to understand that jargon. For instance, a person with a background in cardiology may not adequately be fluent in the terminology of neurology or oncology, and it becomes even more difficult when it is another language.
Here are the top challenges that a medical translator face:
Knowledge and language
In medical translation, a translator has to be an expert in the medical know-how and understand its target language. Many special terms can not necessarily be translated directly into different languages. Translating medical documents and text is highly complex because the field is so unique that even bilingual doctors and nurses cannot be suggested to translate the medical text. Translation services in India have the required specialists and competent professionals who can perform this type of translation so that the document is error-free and is understandable by all.
Specialized Knowledge
For medical translation, you require the help of a specialized translator who has the necessary cognitive skills that go hand in hand with communicating messages effectively. There could be some issues if a medical translator uses the medical terms and language, which is only understood by those in the specific field of medicine rather than adapting it for the target patient population.
Medical translators also face a wide array of problems when producing a translation of prescriptions and drug names. Sometimes a particular brand and generic drugs are given specific names. They are recognized in the origin country in which they are sold but somewhat may not be understood in another country.
The requirement of Intensive training
Translation services in India have proficient medical translators who undergo intensive training that is both time-consuming and expensive. For medical translation, a regular translator cannot perform the same task even if they are fluent in the language and knows the common idioms and phrases. Medical translators are used at several hospitals worldwide, and thus only a translator who has undergone intensive training in medical translation is entrusted with that high-risk work.
Related Services Why Do We Need Translation Services?
Understanding the Target audience
Another more significant challenge that a medical translator has to face is that he has to cater to the needs of two distinct target audiences- the patient or layman and the doctors and other medical professionals. Depending on those target audiences, the translator has to use specific terms.
Mistakes can be Fatal
In the field of medical translation, errors committed during clinical trials can be deadly. A mere translation without adequately understanding the culture of the target audience can sometimes be fatal.
There is a need for accurate and precise medical translation. As people continue to live longer, and there is an expansion of medical research, a wide variety of text has to be translated. But at the same time, there is a need for competing and proficient medical translators. Translation services in India cater to the medical industry's needs and patients to provide them the best healthcare research and medical documents to ensure that they can live a quality life.