Best transcription services in Delhi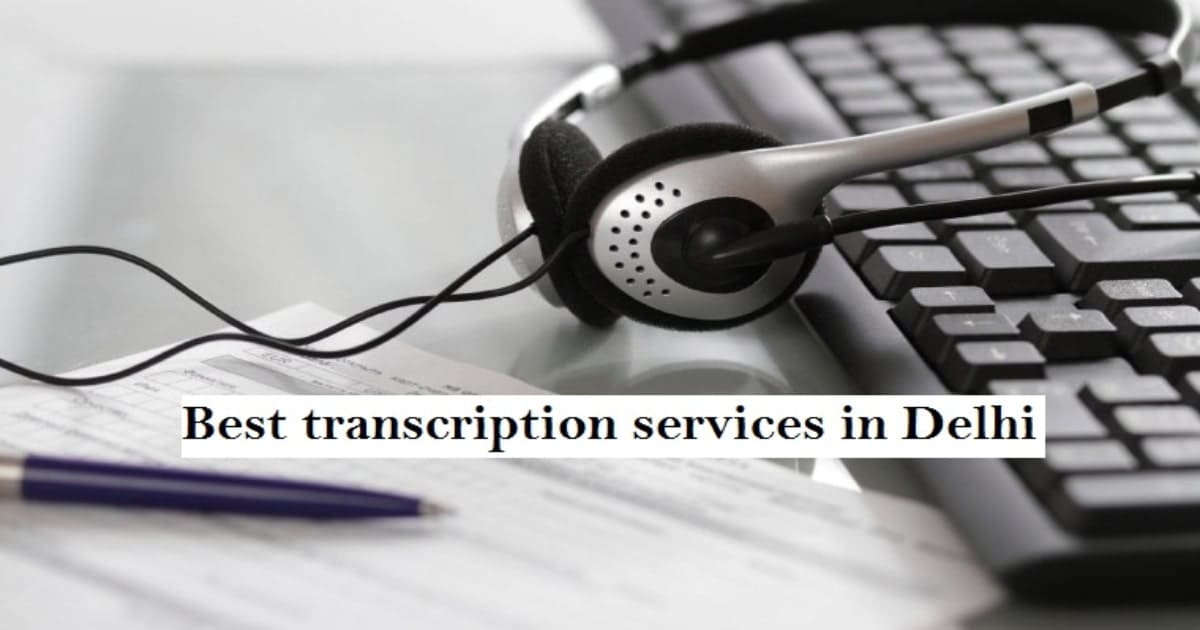 Many businesses have to take the help of transcribers to record some content at one point or another. Maybe you will need a quote for an important interview. Perhaps your boss wanted to make personal voice memos and then write them all down later. Or maybe you just wanted to find a searchable text from a lengthy speech. These are just a few of the instances when you may require the help of transcription services.
A transcription services company can assist you in these above processes. In fact, most of the time, the process is simple to upload a file, select your options, and select a payment method. And Voila! You get content and usable transcripts without a headache.
How to Get a Good Transcription Service Company?
However, there a couple of things that you should consider before hiring a transcription services company.
First of all, you should determine your file's complexity since it will determine whether you wanted to use an automatic or human-based service. If you don't hire a correct transcription services company, then you may be left with a document full of errors, and you may have to put in a significant amount of time for editing.
The next factor is cost. Although most transcription services companies charge on a per-minute basis, sometimes the prices vary. Transcription services company also offered their services in bulk plants at better values. Before you commit yourself to any service, don't forget to read the reviews and testimonials of their previous clients to ensure that you get a worthwhile transcription company.
CHL localization is a one-stop transcription services company provider in India. With over a million minutes of audio recorded and several thousand happy clients and growing, Seattle localization has become the trusted source for many businesses. We provide accurate and quick transcription services. Our network of transcribers comes from a multitude of backgrounds and languages to ensure that your transcript expectations are met.
The goal of CHL localization is to provide professional transcription services to you by guaranteeing 99% accuracy for good audio. Here at CHL Localization, we work with the clients, and our team ensures that you get great transcriptions and translation solutions for all of your projects. With over more than 30 years of experience, our transcription services company has believed in providing accuracy, great service, and transparency in everything we do. From writers to universities to non-profit organizations, government institutions and more, CHL localization has been the forefront and reliable transcription provider for all.
Transcription Types
Academic
Legal
Podcast
Business
Audio
Video
Interview
Focus Group
Digital
Insurance
Govt / Non-Profit Org
Meeting
Dictation
Market Research
Text-to-Text
Voice
Conference Call
Investigative
Sermon
Verbatim
Microcassette
Earnings Call
Why CHL is the Best Choice for Transcription Services?
Our Transcriptionist Experts
Our transcription services company hires detail-oriented, native language transcriptionists to live up to our 99% accuracy guarantee. We provide high-quality services with rapid turnarounds. We mainly rely on human transcribers to preserve the accuracy of the documents. Our transcribers come from different fields, having a vast knowledge of legal terminology, the medical field, and academia, to ensure that all your transcriptions and translation projects are precisely authentic.
Native Language-Based Human Transcribers
We have a team of native language transcribers, allowing us to provide you with industry-leading transcription quality in any language that you require. are certified native language transcribers deliver high-quality transcriptions that will leave you satisfied.
Accuracy Guaranteed
Because we hire native language transcribers, who are experts in the subject matter, CHL localization guarantees at least 99% accuracy on all of your transcripts. Our team consists of transcribers, editors, proof-readers who review the transcriptions to ensure our high accuracy guarantee.