Crystal Hues Limited Awarded by the ISO 17100:2015 Certification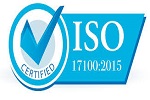 Tuesday , 16 July 2019
Crystal hues limited, a complete communication solution service provider in India, is awarded by the ISO 17100:2015 certification. This certificate implies that the company ensures to processes the best service practices to deliver high-quality translation and localization services.
The whole audit process was conducted over a period of 45days by the certified auditors to look after the restructuring process to ensure the fulfillment of the requirements. Through firm determination and strict on-ground implementation of processes of different services, Crystal Hues has earned this Certification unlike other organizations that just focus on getting the certification, an auditor commented after the audit completion.
Crystal Hues with its four different verticals named, CHL Localization focused on translation and localization, CHL Worldwide focused on integrated advertising, CHL Digital focused on digital marketing and CHL SofTech focused on building technology solutions, has successfully positioned itself as the ideal communication partner providing complete communication life-cycle services.
ISO 9001:2015 & ISO/IEC 27001:2019 has given its certification to the procedures and systems practiced by Crystal Hues Limited. It also expressed that Crystal Hues has more than 5000 clients, including large multinational companies, small and medium enterprises, and government establishments.
Contact Person: Mr. Anurag Mishra
Organization: Crystal Hues Limited
Phone: +91 98183 33952
Email: mkt@crystalhues.com
City: New Delhi (India)
LETS GO
Let's Make Something Great Together.