CHL Localization Annual ISO 9001:2015 Audit: Ensure Continuous Quality Improvements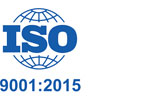 Thursday , 28 February 2019
Summary: CHL Localization successfully clears the annual ISO 9001:2015 audit by DNV-GL auditors to ensure high quality translation and localization services.
New Delhi, Thursday, February 28, 2019: CHL Localization, a specialized vertical of Crystal Hues Limited is a leading provider of high quality native translation and localization services in India, has successfully cleared the annual audit ISO 9001:2015 audit. This recertification audit, which conducts every third year, was a two-day program of intensive validation and verification of the processes practiced by the Company. Three ISO Certified auditors conducted this exhaustive audit from DNV-GL, a leading international quality accreditation authority headquartered in Norway.
CHL Localization has been an ISO certified company for over 12 years now;their highest priority is on continuous improvement in the processes and procedures for ensuring high quality services in the native translation and localization services.
The auditors expressed their satisfaction at the audit explaining that the results attested are becauseof the Company's strict compliance with the standards of quality management systems in practice. The auditors also noted and lauded the fact that there were atotal of 21 revisions in the ISO documents last year, which indicates that the company continues to make significant improvements in their processes and procedures each year.
CHL Localization is positioned as an ideal communications partner of Crystal Hues Limited provid ingquality translation and localization services. Crystal Hues has four specialized verticals namely CHL Localization that is focused on translation and localization, CHL Worldwide focused on integrated advertising, CHL Digital focused on digital marketing and CHL SofTech focused on building technology solutions. The procedures and systems practiced by Crystal Hues Limited are ISO 9001:2015 and ISO/IEC 27001:2013 certified. They have worked with more than 5,000 clients, including multinational companies, small and medium enterprises and also government establishments.
Contact Person: Mr. Anurag Mishra
Organization: Crystal Hues Limited
Phone: +91 98183 33952
Email: mkt@crystalhues.com
City: New Delhi (India)
LETS GO
Let's Make Something Great Together.